Many niche website builders have favorite plugins, tools, or hosting services. Very few share the entire stack that they use for one successful site after another.
I'm going to share my full stack of what I like to use on virtually every niche site I build or buy and scale for flipping.
For your convenience, here is the full list of the major technologies I use upfront:
Server: Cloudways
Theme: GeneratePress Premium
Customization: GeneratePress Blocks
Caching: WPRocket
Image: ShortPixel
CDN: Cloudflare
SEO: RankMath
Updates: ManageWP
Tables: NinjaTables Pro
Ad Management: Ad Inserter
Amazon: AAWP
Internal Linking: Link Whisper
Security: Wordfence
Let's get into the details!
---
Keep The 80/20 Rule In Mind
The 80/20 rule goes that 80% of results come from 20% of actions. The idea is that the 80/20 ratio applies to about everything, even if the numbers vary a bit. This is the Pareto Principle, which was made mainstream by Tim Ferriss's The Four Hour Work Week.
Why keep this in mind?
Because while there are hundreds of potential factors that affect SEO, or endless tasks that can be optimized, a small handful will make the overwhelming difference. The numbers might vary by a few percent, but focusing on the 20% that brings 80% of the results first is the smart way to get maximum return from your efforts.
This stack helps me take advantage of the 80/20 rule to optimize my niche website setup to snag the most "easy wins" and take care of the actions that move the needle most.
---
17 Technologies That I Use On Niche Websites
This is a combination of paid and free resources that I use on all my niche websites. This doesn't mean every single tool is the absolute best, but this is the combination stack that has been very successful for me.
Server: Cloudways (Paid)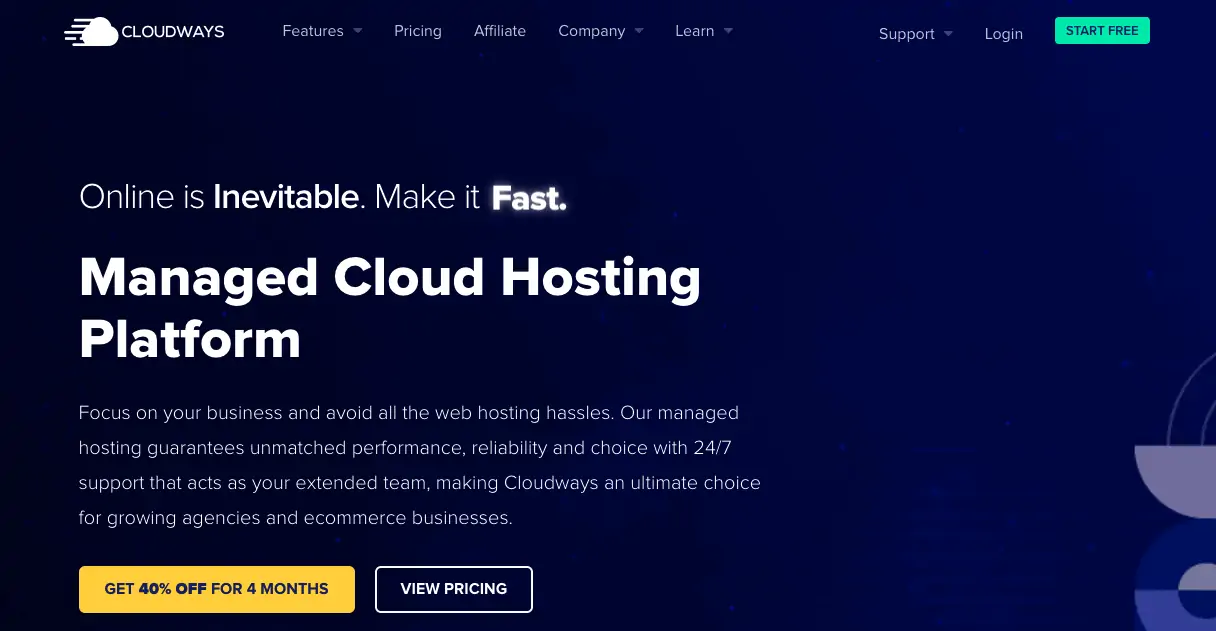 Cloudways is my choice of server. This gives me all the benefits of cloud hosting without having to pay someone with the technical expertise to keep things running smoothly. The speed is fast and the hosting is extremely reliable.
This not only takes care of the two things that are most important to me from my hosting but also makes them a great choice for SEO purposes.
Theme: GeneratePress Premium (Paid)
There are good free themes out there, but GeneratePress Premium is fast, flexible, and very versatile.
There aren't many themes that are fast, SEO-friendly, and can create ten customized looks on ten different sites, but GeneratePress is one of them.
The lifetime deal on the premium is very affordable, and now I don't have to worry about finding new themes.
Theme Customization: GenerateBlocks Pro (Paid)
Although basic WordPress is moving towards a more block-friendly system, their basic offerings just aren't that great.
For serious control over look, design, and being able to customize the full look and function of a site, GenerateBlocks Pro is the best tool I've found.
Since it is designed to integrate seamlessly with GeneratePress, they make for a great 1-2 combo when it comes to creating highly functional SEO-friendly websites.
Caching: WPRocket (Paid)
Having a caching service is important to keep the site speed high. Especially as Google continues to move towards site speed being one of the major ranking factors for SEO.
My preference is the WPRocket plugin. It's extremely reliable, does a great job of caching pages, and performs very well.
Image: ShortPixel (Paid)
ShortPixel is a very affordable paid plugin that optimizes photo size through compression. This plugin does an excellent job of keeping very high photo quality while cutting up to 60% of the size out of every uploaded picture.
This is crucial for site speed and keeping loading times reasonable. Especially on large image-heavy posts.
CDN: Cloudflare (Free)
Good free resource that helps optimize the speed and performance of my site for users. Using a cloud resource for caching means even visitors with slower internet speeds will be able to have a good experience on my site, making them more likely to stick around.
This is good for user experience, for SEO numbers, and makes it more likely that I will make money from that visitor. For a free service that's a no-brainer.
SEO: Rank Math SEO (Free)
Forget Yoast SEO. Rank Math SEO is a free plugin that makes it easy to take care of images, schema markup, and make changes to content based on suggestions pulled directly from widely known "best practices" for SEO.
Best free SEO plugin for WordPress I've seen to this point.
Updates: ManageWP (Paid)
Having one place to manage all updates for all sites is a huge time saver. It also prevents me from making any accidents or mistakes that not only waste time but could cause work stoppages.
Tables: Ninja Tables Pro (Paid)
Good looking tables are a big deal. They keep visitors on-page, increase affiliate conversion rates, and improve user experience – especially on mobile.
Ninja Tables Pro is touted by many niche website builders for a very simple reason: because it's the best easy option out there for good-looking professional tables. I've tested several tools and this is the one I use in my tech stack.
Ad Management: Ad Inserter (Free)
Ad Inserter Pro is a free WordPress plugin that makes it easy to place ads throughout my site where I want them to appear. Good for AdSense, Ezoic, and others, it's a huge time saver.
I don't want to have to mess with the HTML or CSS to adjust a post to put an ad in. This plugin takes care of the technical side of it so I can focus on simply optimizing the placement.
Amazon: AAWP (Paid)
The AAWP plugin for WordPress is pretty much the king of Amazon link plugins. This makes it easy to switch all links from a bought site from the previous owner's account to my own, and checks for broken links or links to products that are out of stock.
This makes it much easier to manage links and make sure traffic is going to a page on Amazon that actually converts.
Internal Linking: Link Whisper (Paid)
Link Whisper is an exceptional paid WordPress plugin created by Spencer Haws. This tool shows how many inbound and outbound links go to each post, and suggests posts to link to whenever adding or editing content.
Internal linking is a powerful way to pass link juice to your blog posts from other blog posts and Link Whisper makes it extremely easy to do effectively at scale.
Security: Wordfence Security
Wordfence Security is a security plugin that scans for malware, hacks, and potential security issues with your website. It's a free plugin that does a great job keeping sites secure and notifying you of any potential issues.
Security is a must with any website to protect your work from malware, hackers, or other online threats.
Others (Optional)
These are optional parts of my tech stack that I sometimes use, sometimes not depending on what additional things I need with each specific site.
The shortlist of other plugins and services that sometimes make my tech stack include:
If you are working on a website where you need what any of these plugins have to offer, then they are a very good addition to the stack to make sure your site has the full functionality that you're looking for.
---
Actionable Next Steps
Given enough time most website builders, flippers, and investors will have their favorite plugins or go-to services. Keep the ones that work well for you, take action off this proven tech stack, and find the combination that works for you.
Look over the tech stack in this article.
Identify the plugins or services that address issues you haven't taken care of on your niche websites.
Take advantage of the free ones (no reason not to).
Look at the paid resources that fit in your budget and could most benefit your niche sites for the cost (remember: 80/20).
Repeat as needed until you have this full stack (or your version of it).
Take these steps, keep an eye on new resources that get a lot of traction and solve a practical problem, and your niche website results will continue to improve.