The Make Lemonade Agency, previously known as Niche Website Builders, made news recently when they publicly announced that they are going into Administration, which is the British equivalent of going into bankruptcy management.
In this article, I look into the following:
Background
Why Niche Website Builders struggled
What happened to lead to bankruptcy
Alternative done-for-you niche site agencies
And more…
Let's dive in!
About Make Lemonade Agency (aka Niche Website Builders)
The Make Lemonade Agency was a content, website, and SEO agency that offered a variety of services. Most of it focused on SEO, used domains, and content creation, but various other digital marketing services were also offered.
The Make Lemonade Agency was founded by Adam Smith and Mark Mars, and had a total staff of over 170 people including freelancers and remote workers (this part is important and we will dig deep into why).
Based out of the UK, they received a lot of attention for their SEO work and were featured in reviews on popular marketing blogs like Niche Pursuits and Fat Stacks Blog, among others.
The rebranding from Niche Website Builders to the Make Lemonade Agency was a recent move, and there hasn't been a lot of information on why this took place.
One possibility was to have a more brandable name as "niche website builders" can return a lot of general results from Google searches.
Another could be that some sites like Glass Door admittedly had some less than stellar ratings on the old business, and the rebrand could have been an attempt to start off on a better rating or new foot after addressing problems that led to those low ratings, as seen in the screenshot below.
Whatever the reasons, the rebrand was not successful, though that was likely due as much to the rise of AI causing financial problems in 2023 as any other potential rebranding issues.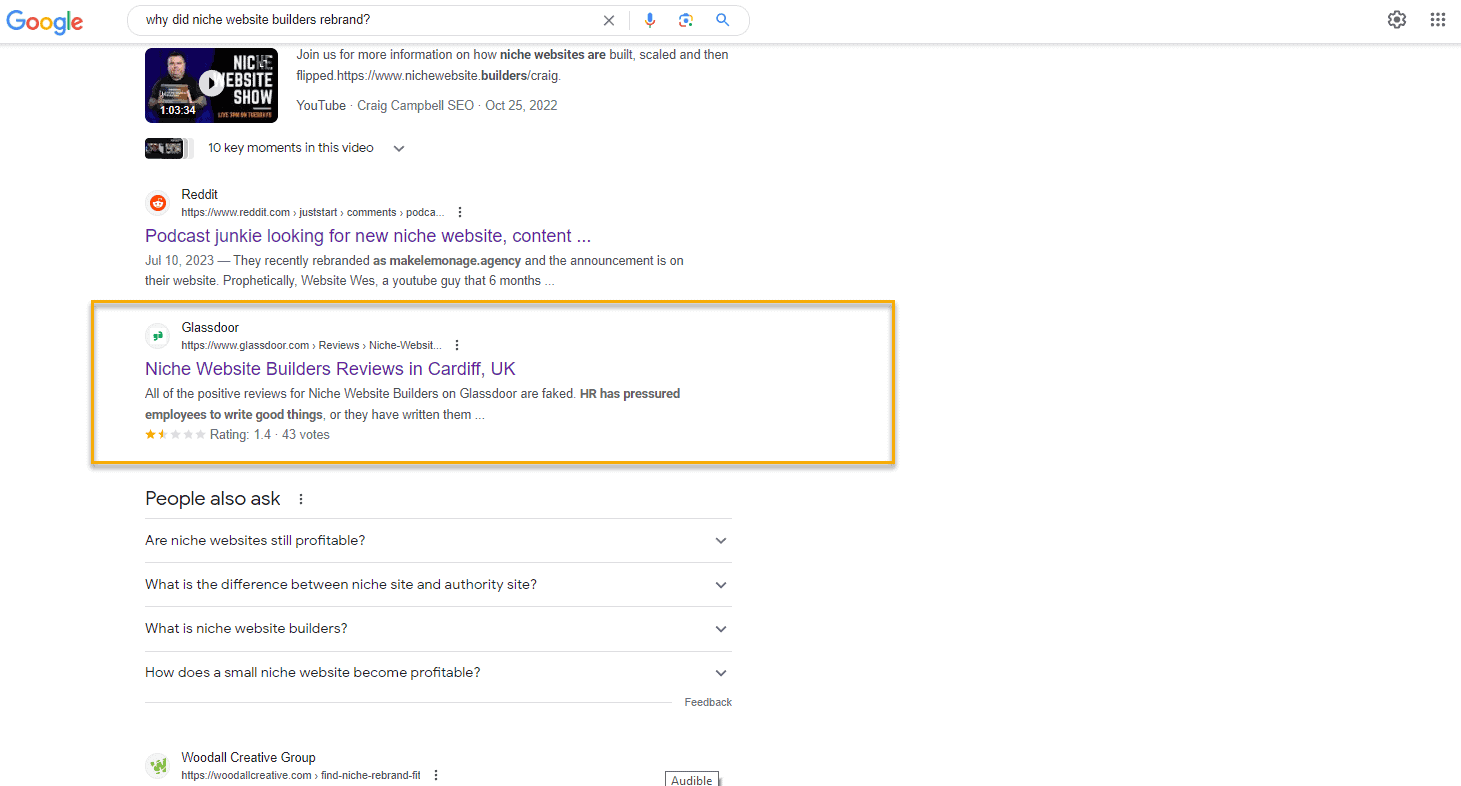 Still, considering how much attention they garnered in the past two years, it was still surprising to many when the bankruptcy announcement came.
What Caused Niche Website Builders To Go Bankrupt?
There are three main causes I look at when making sense of what factors were most responsible for causing the Make Lemonade Agency to go bankrupt.
AI content reduced their revenues
170+ people staff
Mismanagement
AI Content Impact
The first point was addressed directly in founder Adam Smith's Facebook post announcing this news. He cited the steep and stunningly fast rise of AI-produced content resulting in a huge hit in their revenue, and the company's inability to adjust fast enough to save the business.
This makes sense as AI and AI-content has already had, and will continue to have, a massive impact on the SEO and content creation industries across all areas of digital marketing.
170+ People!?
The second reason was the large staff. At 170 people that is a massive payroll and a lot of management. The larger the company, the harder it is to pivot when an unexpected challenge comes up.
Since AI-generated content cut into their revenue quickly, it's not hard to see how the large amount of payroll could quickly outweigh the revenue coming in. Anytime profits go from in the black to in the red, it's bad news for a business.
Mismanagement = Ultimate Demise
Finally, there's mismanagement. Having too many employees on payroll, not producing enough revenue, not having enough revenue banked to weather through tough times, and not being diversified enough in income sources meant that a major disruption to one income source (content creation) was enough to sink the whole ship.
While there are always challenges, it's clear that Make Lemonade wasn't able to pivot fast enough, didn't have enough diversified sources of income, and didn't have the funds to buy more time while transitioning to a new and more profitable business model.
Whether fair or not, at the end of the day that has to come down to a question of management and having a large staff of 170+ and not adjusting over months despite clear signs of how disruptive AI would become definitely played a part in dooming Make Lemonade so the agency ended up in Administration.
How to Properly Structure an Agency
There are several lessons to take away from what happened to Niche Website Builders (aka Make Lemonade) and to learn from these mistakes.
1. Lean Operations
Bigger isn't always better. A business that has to find a new talented individual (or individuals) to add to an overworked team is in much better shape than a business searching for new work or clients because they have dozens of workers waiting for more work.
Lean operations with lower expenses means more revenue can become profit, go into savings, and simply encourages a more efficient business model. Lean operations also are much easier to pivot or turnaround if a major challenge comes up that affects the bottom line.
2. Hourly Contractors = Flexibility
There are many insanely talented hourly or per-job contractors out there. The flexibility this offers is fantastic. I don't need to pay a writer for 40 hours a week when there's no writing I need done – I can contact a trusted contractor to do the work when it comes up and pay them for only the specific work I needed done.
This means I'm only paying when there's work to be done, and I'm not paying for downtime. That type of flexibility could have been huge for Make Lemonade since they would not have had dozens and dozens of employees getting paid while not working when their content orders took a hit due to AI.
That flexibility would also have made it much easier to pivot to a new revenue model, or at least a major shift in focus for the company.
3. Diversified Services
The old saying "Don't put your eggs in one basket," definitely still applies in business. While Make Lemonade offered multiple services, it's clear a huge portion of their offerings were heavily tied to content creation.

That meant when the content services were heavily impacted, the others couldn't pull in enough revenue to give the agency time to pivot. Whether it was through more link building, other link building services, or premade niche website builds – there are many other services that could have picked up the slack.
4. Don't Scale Quickly
Business ebbs and flows. Scaling up too fast and too big when things are good is just asking for problems when the orders slow down. This can be a challenge, but it's better to pay some overtime or test out some more contractors rather than scale up and be stuck with more payroll.
While scaling can be a good thing, doing it too quickly can kill a business and makes it much harder to change direction or pivot when challenges come up.
With 170+ employees to manage and deal with, while trying to find new business and change direction, that was just too much for Make Lemonade to pull off at the same time.
Making sure the business is stable before scaling is crucial for long-term success.
Alternatives to Niche Website Builders
While they didn't make it as an agency, that doesn't change the fact that Niche Website Builders/Make Lemonade offered important and in-demand services to website owners.
Since they are not an option anymore, who are the best alternatives?
WebOperators – DFY Niche Sites
WebOperators is a new service founded by my team and takes the decades of combined experience to the table in order to offer a wide array of services for website owners.
This ranges from website audits and fixes to content production, revenue operation, or even complete hands-off website operations as everything is handled for you.
WebOperators offers many of the same services that Niche Website Builders did, while also focusing on important tasks like revenue diversification and optimization that are too often overlooked.
Takeaways
There are several important takeaways that Make Lemonade's bankruptcy can teach us.
Among the most important lessons:
Lean operations are important for successful agencies
Diversified services are important for business health
Contractors offer outstanding flexibility
Good management and the ability to pivot are crucial
Overlooking revenue diversification is extremely dangerous
WebOperators is the best current alternative for previous Niche Website Builders clients
While the bankruptcy of Make Lemonade is sad, learning lessons from their mistakes is the best way to make the best out of a bad situation, to not repeat the mistakes that led them into Administration.