This is the August 2020 update for the dating/relationship site. This will be a quick update.
For the previous update (July 2020), check out this post, or check out all the posts here. August was another month of the waiting game…
Let's get started!
---
📊 August 2020 Traffic and Income Stats
📉 Site Traffic (L3M)
May 2020 Pageviews: 40,316
June 2020 Pageviews: 33,103
July 2020 Pageviews: 33,367
August 2020 Pageviews: 31,084
August 2020:
May to August: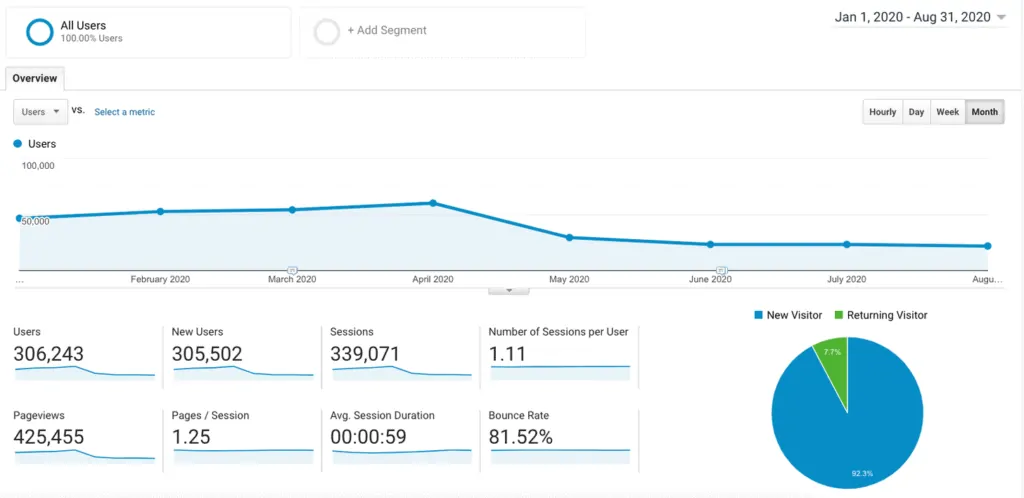 Rankings
Here is the SerpRobot rankings over the last couple of months. No major increases nor dips after the Google Core Update in May.
---
💰 Revenue
The site's revenue increased slightly from $7,631 to $7,450
Last 12-mo P&L
---
Recap of August activity and What's Next?
We are still waiting for the recovery with all the things we improved on the site. As it stands, the site is generating a nice profit with minimal costs. Nothing to complain about.
The traffic has been decreasing since May but our rankings have not really changed. That could be due to consumer interest in the niche.
We will continue waiting and improving small factors to see how things pan out.
Here's what we have planned for September improvements:
Add Affiliate Links: I've identified 17 articles that are now getting traffic but have NO affiliate links, comparison tables, or CTA buttons. I will be adding those in and that should bring in an additional $500/mo minimum. Quick wins!
Improve CRO: The site has sidebar "product boxes" that showcase the best affiliate products with the highest conversions. The boxes have CTA buttons that need to be improved in terms of "sticking out" on the page. This small improvement should get more CTR.
Add Content: the plan is to add 5 or so articles to the site to keep it fresh
Optimize (A/B test) popup times: the site has mobile popups Optin Monster and Popup Maker. They have been set up to be less aggressive (i.e., open after 30 seconds). The popups generate significant revenue so being a bit more aggressive (e.g., 10-second open) theoretically should increase income. That's the hypothesis to test.
---
Wrap Up
That's it for the August 2020 update. Leave a comment or reply with any questions, suggestions, and concerns. Happy to help!