The revenue in February clocked in at $8,799 give it was a shorter month compared to 9,147 in January 2021. The site is cash flowing with a 90%+ profit margin; a highly-profitable hands-free business.
In this update, I cover the following:
Traffic, revenue, and keyword metrics
Updating titles from 2019/2020 to 2021
Prepping for Google Core Web Vitals update
Plans for March 2021
For the previous update in January, check out this post, or check out all the posts here.
---
📈 Highlights
High-profit margins (96% in February). Operating expenditures remain minimal
Traffic remains steady after various updates during February

Industry 2020 Trends report published
📉 Setbacks
Writer has been on leave for personal reasons thus delayed on getting more content produced
Only 2 new articles published out of 15 pending

Did not begin internal linking
---
📊 February 2021 Traffic and Income Stats
📉 Pageviews
September 2020: 27,032
October 2020: 29,306
November 2020: 30,016
December 2020: 44,182
January 2021: 44,439
February 2021: 39,796
February 2021 Traffic Breakdown
Traffic Breakdown (L12M)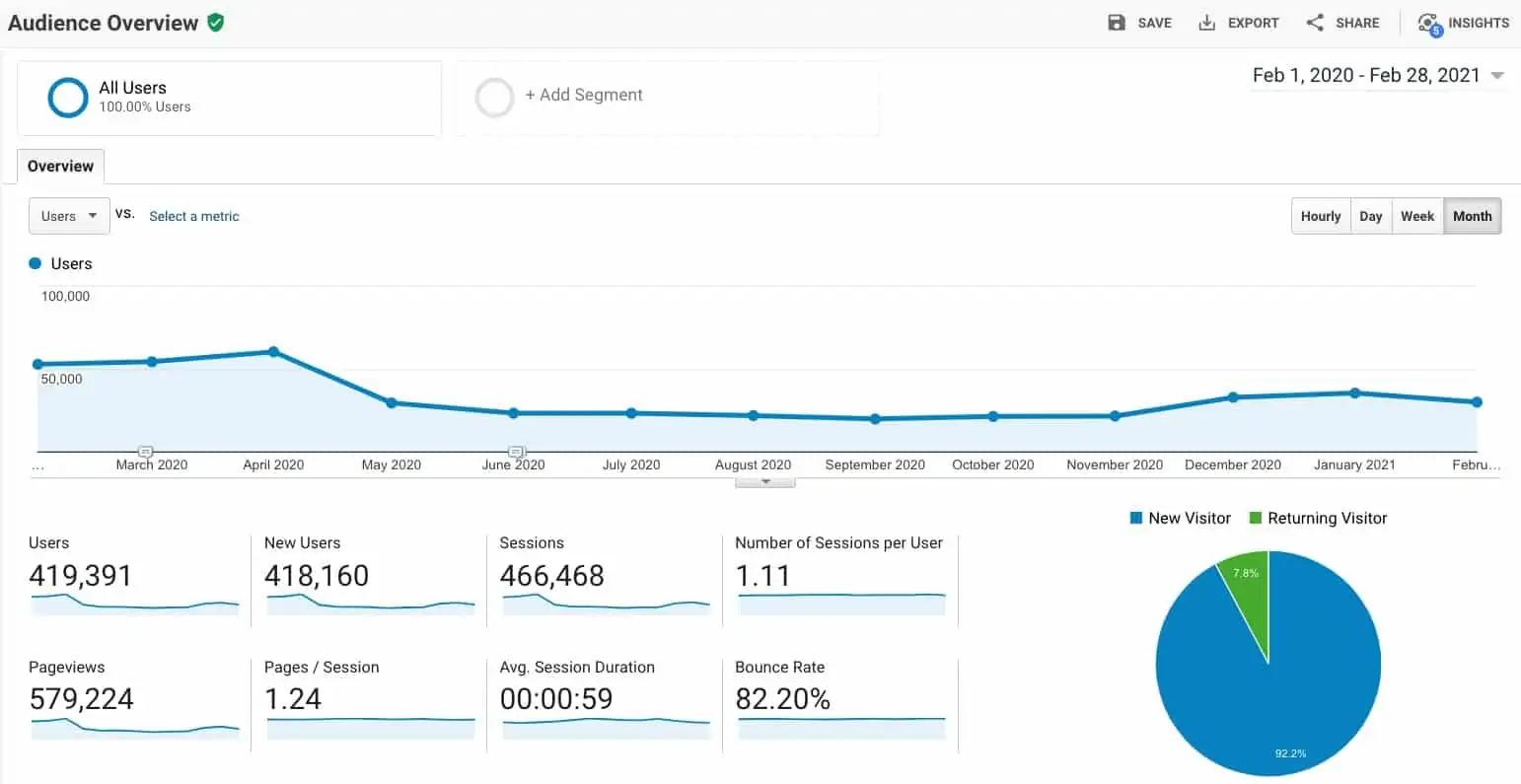 AHREFs Metrics

Keyword Positions
Using AHREFs, I track the overall keywords by position in the SERPs. This provides a high-level overview of my site's current performance. Check out the positions below.
All positions are stable and some have slightly increased from the previous month.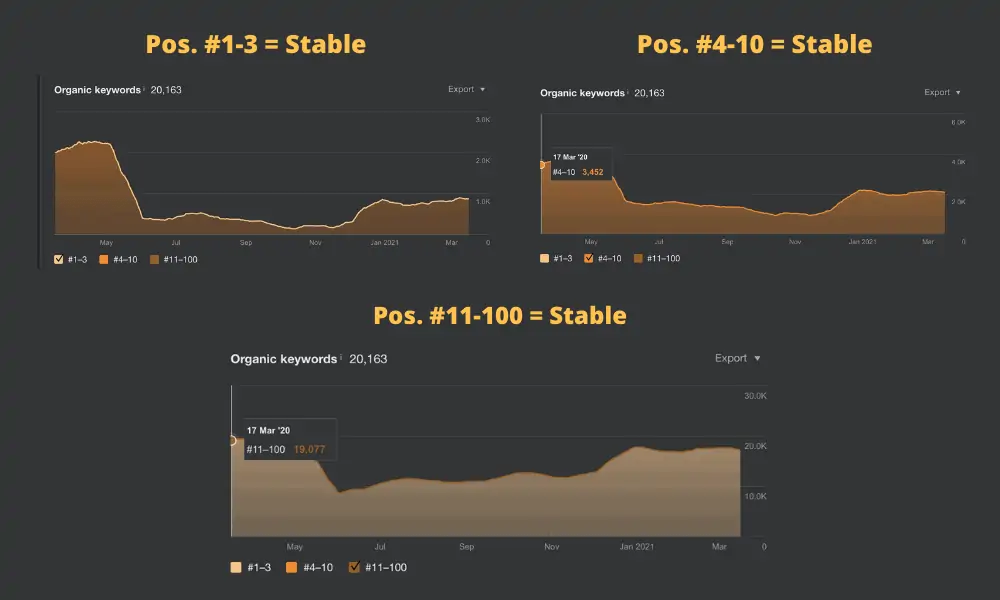 💰 Revenue
The website continues to cashflow. Here is the breakdown:
Revenue: $8,799.53
Cost: $338.00
Profit: $8,461.53
The costs were spread as follows: $323 for content, and $15 for server hosting fees. The profit margin was 96%.
Last 12-mo P&L

---
Improvements To The Site In February 2021
👉 Update Titles from 2019/2020 to 2021
I do not like to change title tags immediately when the new year hits. In my opinion, it seems like a major red flag.
What I do is the following:
Shortlist content that needs to be updated after doing a proper Content Audit. Update this content and change titles.
Remaining content that does not need to be update gets put into buckets of 50. Every 1-2 weeks, I change the titles of a bucket of articles.
What's the benefit of this? It's not abruptly done all at once. I do the changes across a long-period of time to ensure I am not flagged in any way with Google.
Why change the title tags? It improves CTR drastically. Users love to click on up to date articles.
👉 Prepping for Core Web Vitals Update in May 2021
The cover web vitals update is coming in May 2021. I did an audit of my site to ensure I am at least in the ballpark of requirements according to tools like GTmetrix and PageSpeed Insights. I tested various pages on my site with both tools.
The homepage provides the following results:

Here is the detailed breakdown:
One of the high-traffic inner pages provides the following results:
My website foundational setup is as follows:
Not having display ads truly helps keep the metrics in the green.
Can I improve these numbers further? I am sure I can but then it comes down to valuing your time spent on better tasks. At the end of the day, core web vitals will be a small portion of the Google algorithm; not the whole thing.
---
What to improve in March 2021?
Here's the plan:
Optimize SEO title tags by placing different keywords into the title tag to bring in more traffic
Internal Linking of content
Promote the Industry Trends report
Publish hands-on review content
---
Recommendation: Prep for Core Web Vitals Update
Core Web Vitals will be launched. The impact of it is something no one knows.
Take a few minutes and audit your website speed, Pagespeed Insights, and user experience. Fine tune the use of your Wordpress plugin and install new ones to improve the metrics.
Make sure you have a proper foundation set up to which you can build upon.
That's it for this update. Stay tuned for next month's update.