Since the beginning of 2021, I have been on a journey performing roll-ups in the digital marketing space by buying up competitors' aged websites and aged domains.
The initial strategy was to acquire and redirect/merge into The Website Flip to boost authority. However, in early 2022, that strategy has changed to building an authority media network (AMN) using the roll-up assets.
In January 2022, I acquired Stream-SEO.com as the first asset in my media network. Why did I choose to build a network instead of redirect? What are the pros and cons of each strategy?
In this write-up, I discuss the following:
Basics of the micro roll-up strategy
Redirect vs Authority Media Network
Why I bought Stream SEO
Improvements to Stream SEO post-acquisition
What's next?
Let's get into it!
---
What's a Micro Roll-Up?
To get the official definition, head over to Investopedia.
In the content website space, a roll-up is where a company acquires similar websites (think keywords, audience, interests) in a niche and merges them under one umbrella (either redirects or under a unified brand). This allows them to take advantage of economies of scale (i.e., same writers, keywords, products).
I added the word "micro" because I am doing this at a scale of sub-$50,000 per acquisition, whereas traditional roll-ups are done by big players ranging in the multi-millions. I am a "small fish" but implementation and strategies are the same.
Since 2021, I've been doing acquiring assets actively, such as:
Inventige.com (301ed)
FlipWebsites.com (301ed)
FlipFilter.com (301ed)
DNGeek.com (301ed)
HowToCreateABlog.org (301ed)
Stream-SEO.com (Media Network)
Out of the 6 acquisitions, 5 of them have been for the purpose of redirecting. Now, I am shifting to a strategy of building a media network where Stream-SEO.com is the first asset.
A roll-up is a sole act of buying the assets into a streamlined operation. The strategy can then be to manage that asset as a standalone entity, which the large media companies do, or redirect to boost authority.
Both are viable but they each have pros and cons.
---
➡️ Redirect vs Authority Media Network (AMN)?
Let's break down the benefits and disbenefits of each approach.
Pros
With AMN, the pros include:
Less risky than 301 redirects as you do not need perfect topical relevancy match
Ability to own multiple search results for keywords (target same keywords across multiple sites)
Ability to market your own products and advertisers on this AMN site
Multiple sites in a portfolio receive higher exit price valuation
With redirects, the pros include:
Link authority and backlinks pass to main website
Easier to operate (one website vs multiple)
Unified branding
Cons
With AMNs, the cons include:
All link authority does not pass to main website (operated as a standalone)
Multiple websites can be daunting due to content, management, SEO, backlinks, etc.
Linking content between AMN sites and main website can be seen as a PBN (be careful)
With redirects, the cons include:
High-risk if topical relevancy is not matched
High-risk if the backlink profile is poor
Risk of getting your main website penalized
Each incremental redirect has diminishing returns
Theory: Diminishing Returns with Redirects
The aspect of diminishing returns is one of the major reasons why redirecting more domains/sites after doing a few may not make sense. Here is a diagram of the last 12-months of The Website Flip's Domain Rating (DR) from Ahrefs: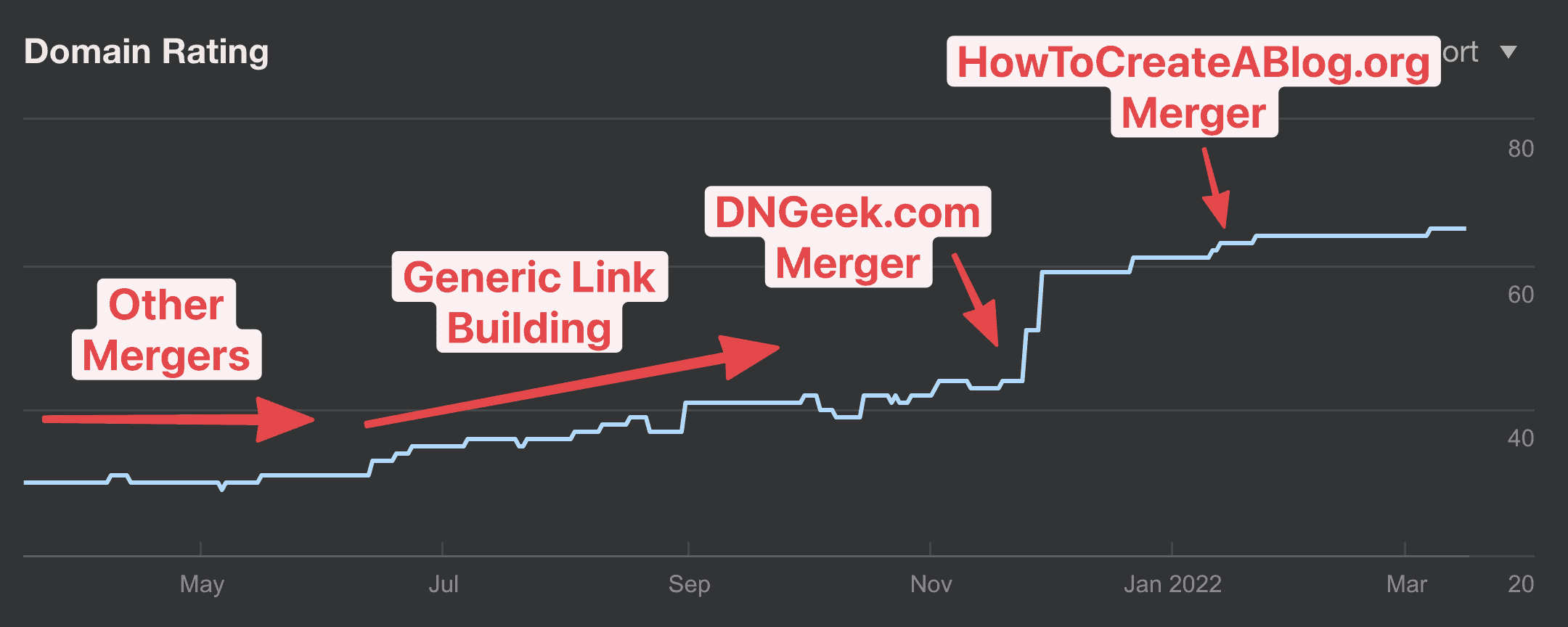 The current DR is 65 and this has been achieved with the backlinking outreach that I did but primarily with 301 redirects of high-authority aged domains and sites.
The challenge I have is an incremental 301 redirect is not going to move the needle. This is because I've obtained the majority of niche-relevant backlinks. Another redirect will have a significant overlap in backlinks. Multiple links from the same domain have their benefits but there are diminishing returns.
In general, when DR is less than 20, doing a redirect can push the authority of the main site higher. As you get higher authority, it's risky as an incremental redirect can cause everything to be penalized and the authority won't really increase significantly.
Solution: Authority Media Network
The solution for my situation is to build a media network. This includes the best of both worlds:
I do not risk any penalties with The Website Flip, if another incremetnal redirect is not done properly
I can continue acquiring competitors and synergistic websites/domains
My criteria for media network sites include:
Aged (5+ years old) with existing content (50+ articles)
Quality backlinks from niche relevant sites in my industry
Organic traffic of at least 5,000 pageviews per month
Semi-neglected enabling me to get a good deal on the acquisition
---
🆕 Stream-SEO.com: First Media Network Acquisition
In January 2022, I came across Stream SEO while doing competitor analysis and saw the site was ranking for keywords that I was targetting. It was also clear the site was not updated in a while.
I reached out to the owner of Stream SEO on Twitter to ask if he was interested in selling. He was. I immediately started due diligence and made an offer. We closed within 1 week. Easy!
Why did I buy?
Here is a summarized bullet list of reasons:
Neglected 10-year old site with a good foundation
All content written by original owner
Backlinks from Moz, Forbes, Niche Pursuits, Neil Patel, Outbrain, and many more
Existing organic traffic
Email list of 5,000+ subscribers with 20%+ open rate
No spammy or PBN links
In reality, Stream SEO was originally purchased to be 301 redirected into The Website Flip. However, with the diminishing returns and "risk" to my main business, I switched strategies to keep it as a standalone site.
Check out my twitter thread with a few more details:
Operational Team Requirements
My operational team for The Website Flip will work on Stream SEO simultanously.
Outlines: If I find a few keywords that I want to target on both sites, I will have two outlines created (one for each site)
Writers: currently 3 writers are on-staff. They will write content for both sites as needed.
I can use the data from The Website Flip (keywords, traffic, conversions) to replicate into Stream SEO, such that I cover more of the SERPs (i.e., multiple positions on the first page).
Since the site has a good foundation (backlinks & authority), it's all about adding content at this point.
Post Acquistion Activities: Week 1 (Email Introduction)
After closing on the deal, the seller allowed me to use his email service provider account, ConvertKit. I used the account to send a few intro emails to get subscribers used to me as the new owner.
I sent an introduction (acquisition) email as follows: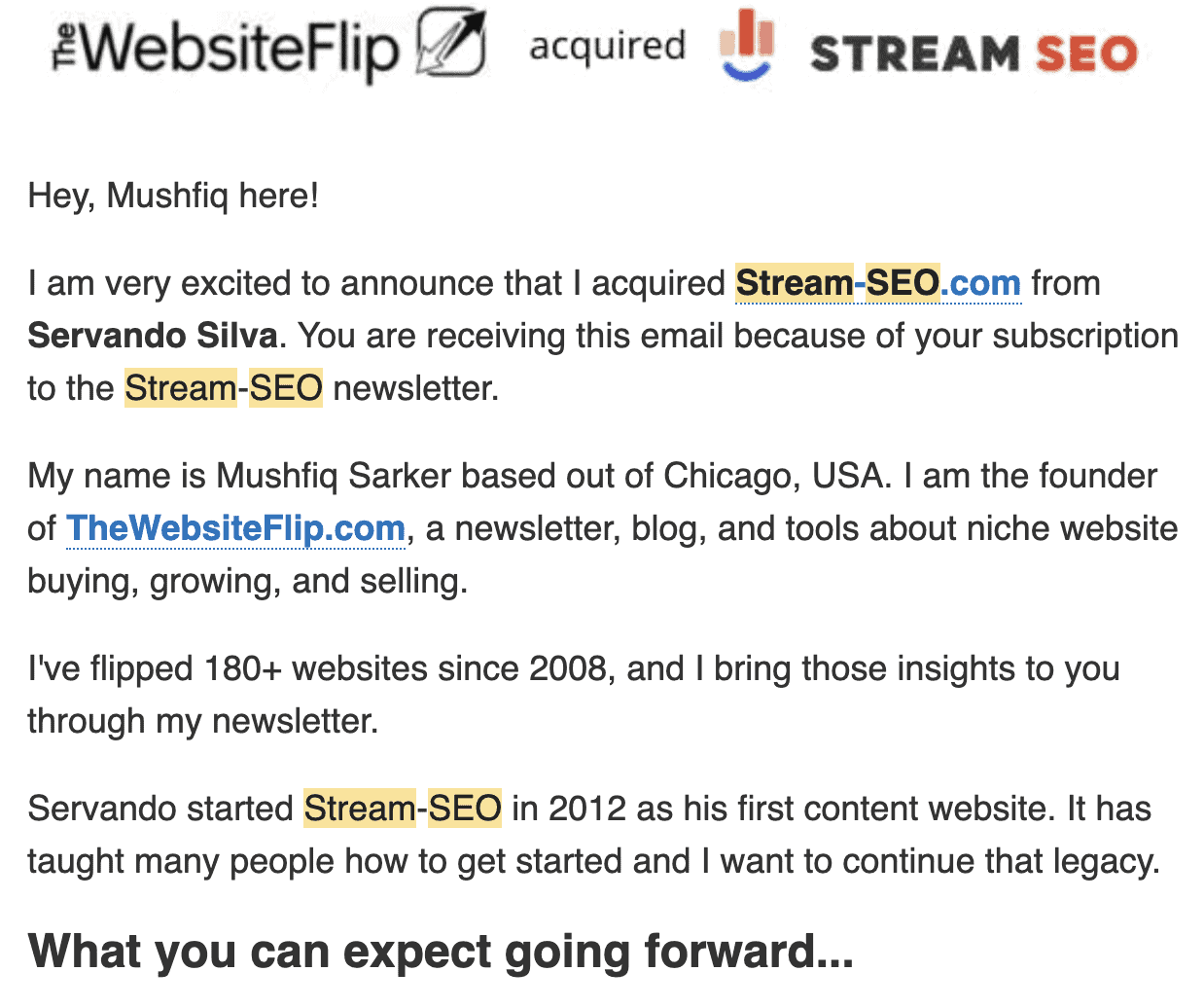 The goal here was twofold: (1) introduce myself, and (2) force uninterested people to unsubscribe. The open rate was 25%. The email was resent to people who did not open about 2 days later. This forced more people to open and unsubscribe if they wished to.
Post Acquisition Activities: Week 2-4 (Content Audit)
A thorough content audit was needed to understand which articles should be deleted, redirected, or improved. I used the Ahrefs audit template to analyze the site.
The site has 165 total articles pre-audit. Here was the final strategy:
74 articles to be deleted (404)
29 articles to be improved
20 articles to be kept as-is
42 articles to be redirected to another article
The articles that were to be deleted (74 articles) and redirected (42 articles) were done first within the first week. The site was then "clean" of low-quality content. I then waited about 2 weeks for Google to re-index the site.
The articles that need to be improved (29) can be done over time. They are good for now but have the opportunity to target lucrative keywords.
Here are the last 45 days (Feb 1 to March 15) Google Analytics chart:

Post Acquisition Activities: Week 4-6 (Website Redesign)
After deciding to keep this as a standalone site, a website redesign was needed. My goal with the redesign was as follows:
Create a singular customized WP theme that can be implemented on future acquisitions
Fast, responsive, and clean design
Customized homepage that passes link authority to inner articles
Email optin features to collect emails
While I am a big fan of GeneratePress, which is part of my niche website tech stack, I opted to use the Carbonate WP theme with GenerateBlocks.
The primary reason is that for media network sites I do not need a ton of bells & whistles that GeneratePress provides; I needed a simple design and lightweight theme that can be replicated. That was the case with Carbonate.
Here is the old design:
Here is the new design: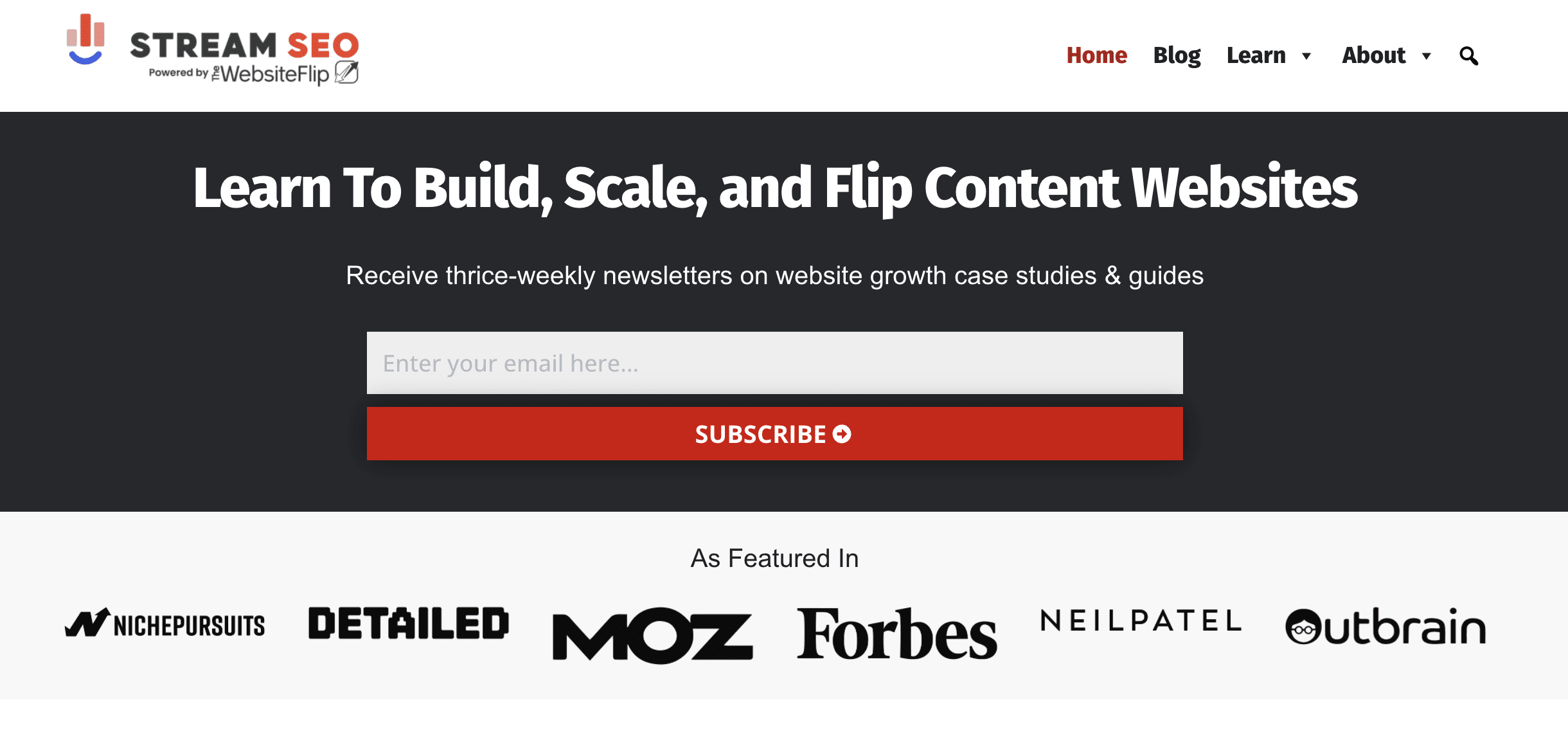 ---
🆕 What's Next?
The most time-consuming aspect of determining the strategy and how it will be implemented is complete (i.e., Authority Media Network). Now it's about execution.
Stream SEO's foundation is set up for growth. Here are plans for what's next:
Analyze impact of new website design (and fix anything, if needed)
Add content related to website flipping and affiliate marketing
Implement advertisements for The Website Flip's products
Collect and nurture the email subscribers
---
Actionable Takeaways
Performing redirects or building a media network are both advanced strategies you can deploy to ultimately reach one goal of dominating your niche.
Whenever you are thinking of an acquisition, ask yourself these questions:
Does this asset match my primary business topics? Is there existing traffic that is valuable?
Will redirecting this asset increase my main website's authority?
Can I operate this asset as a standalone site? Do I have the team in place? Will it be a distraction?
Does this potential website have any additional assets that I can leverage (i.e., email list, social profiles)?
Stay tuned for updates!