MicroAcquire is a new marketplace where online businesses can be listed for sale. Sellers do not need to pay any commission fees. Buyers get access to the listings by paying an annual subscription fee.
As a continuous buyer of online business, one of the biggest challenges is the commission fees that all brokers take. This can range from 5% to 20% depending on the broker. This causes artificial markups on the sale valuation to cover these fees. With MicroAcquire, there are no fees!
In this review, I go in-depth into the marketplace. Let's get into it!
---
3 Major Benefits of MicroAcquire Marketplace
There are a lot of major benefits of using the MicroAcquire Marketplace, but three stick out above and beyond the rest.
Benefit 1: Actively Receive Hot Leads/Connections
While MicroAcquire works as a marketplace, the premium membership model works out well for both buyers and sellers. This keeps the most interested and invested buyers in the game early, while sellers have their businesses pitched to buyers who aren't just kicking the tires.
Creating a good marketplace like this means quick responses to promising businesses and the opportunity for early negotiation.
Benefit 2: Control Over the Process
Since the negotiations are handled directly between the seller and interested potential buyers, you have control over the process. This includes negotiating fees, finding the right price for the business, and talking about terms.
This is true of both the buyer and the seller. They have the ability to negotiate better terms that fit their needs instead of being shoehorned into how a broker forces the process.
This could be intimidating for a beginner who has no experience in this field. However, for experienced buyers and sellers this falls in the benefits category.
Benefit 3: No Fees for Sellers
Since MicroAcquire isn't a brokerage, there aren't any fees. No percentage gets cut out of the final sale as a brokerage fee meaning more money in the pocket. There are no listing fees, no over-the-top escrow fees, etc.
While buyers who want the most out of the MicroAcquire should buy the premium membership to get a first crack at new listings that meet their criteria, there is no other set "fees."
While handling the actual transaction, who picks up the Escrow costs will still need to be worked out between the buying party and the seller, as well as what escrow service to use. But the lack of fees makes these transactions quite appealing for both sides of the transaction.
---
MicroAcquire vs Empire Flippers vs FE International
| | FE International | Empire Flippers | MicroAcquire |
| --- | --- | --- | --- |
| Commission Rate | 15% or less | 15% or less | 0% |
| Listing Fee | $0 | $0 | $0 |
| Total Listings | 25+ | 120+ | 100+ |
| Exclusivity Agreement | Revealed during Representation Agreement signing | 60 days | None |
| Users | 10,000+ | 195,000 | 30,000+ |
| Escrow Fee | Included in upfront fee | $0 | $0 |
| Proof of Funds Requirement for Buyers | Yes | Yes | N/A |
| Free Site Migration Service | Yes | Yes | No |
| Legal Documentation Provided | Yes | Yes | No |
| Due Diligence Provided | No (vetting only) | No (vetting only) | No (basic vetting) |
---
Why did MicroAcquire go Marketplace vs Brokerage?
There are quite a few website brokers out there, and more are popping up every year. That is a crowded space that has some strongly established names already. However, there are not many open marketplaces. Flippa has plenty of opportunities, but there's a reason that caution and due diligence is urged.
There was room for a vetted marketplace where the open listing was combined with having a pool of business acquisition specialists matched with good fits of businesses or startups being sold.
MicroAcquire did a good job sticking out by identifying this open potential niche and sliding into that space. Experienced sellers who don't like paying a 10% or 15% brokerage fee are going to appreciate the ability to keep that money in their pocket.
---
What Types of Online Businesses Are Offered for Sale?
MicroAcquire uses the term "startup" to describe the businesses it sells, and while that skews towards tech, that is a broad field. Online businesses include online shops offering produced products, SaaS businesses, app & software development, and more. These businesses cover about every niche imaginable from B2B to medicine to outdoors.
The exact number and styles of businesses listed are going to vary based on who is looking to sell at any given time.
---
How Can MicroAcquire Have No Brokerage Fee?
The answer is because MicroAcquire is not a brokerage. It is a marketplace format that is more similar in some ways to Flippa as opposed to a brokerage like Empire Flippers.
Since their full income comes from buyers who want first crack at new listings (the Premium membership) they don't need fees on the actual sales.
---
The Buying Process with MicroAcquire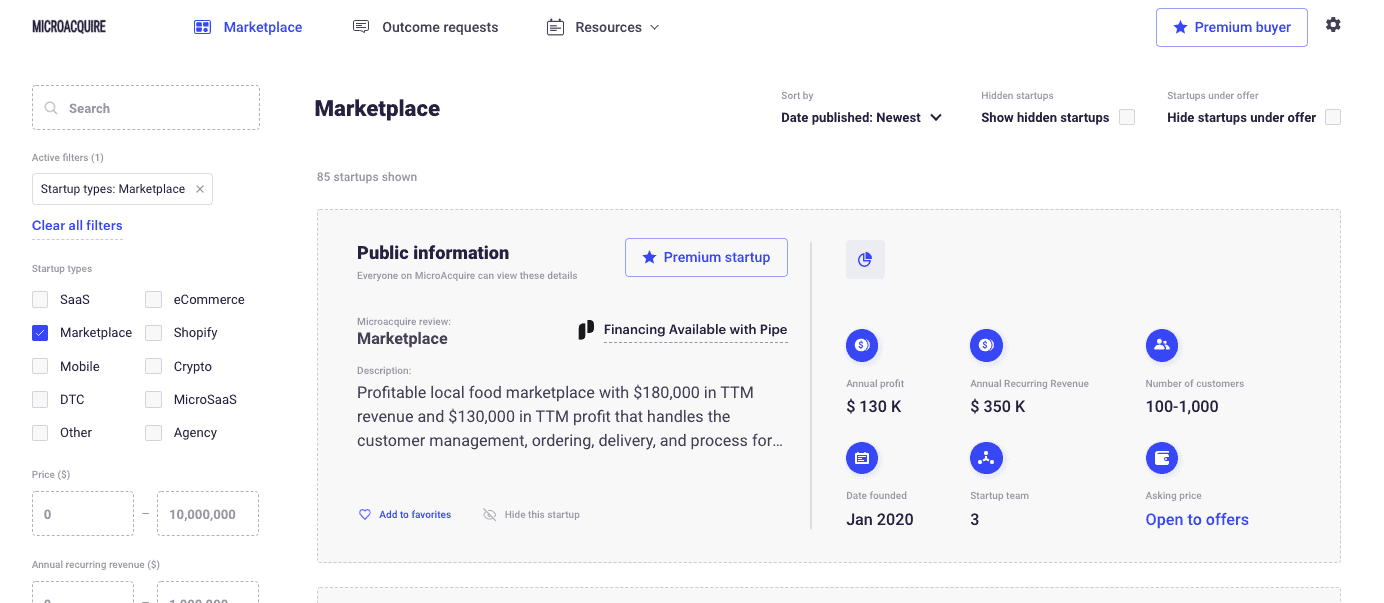 The buying process is going to depend on the experience and capabilities of the buyers and sellers. MicroAcquire isn't a broker that offers specific support, they are the intro men who introduce hot leads to motivated buyers.
1. What Listing Information Is Provided Publicly to Everyone?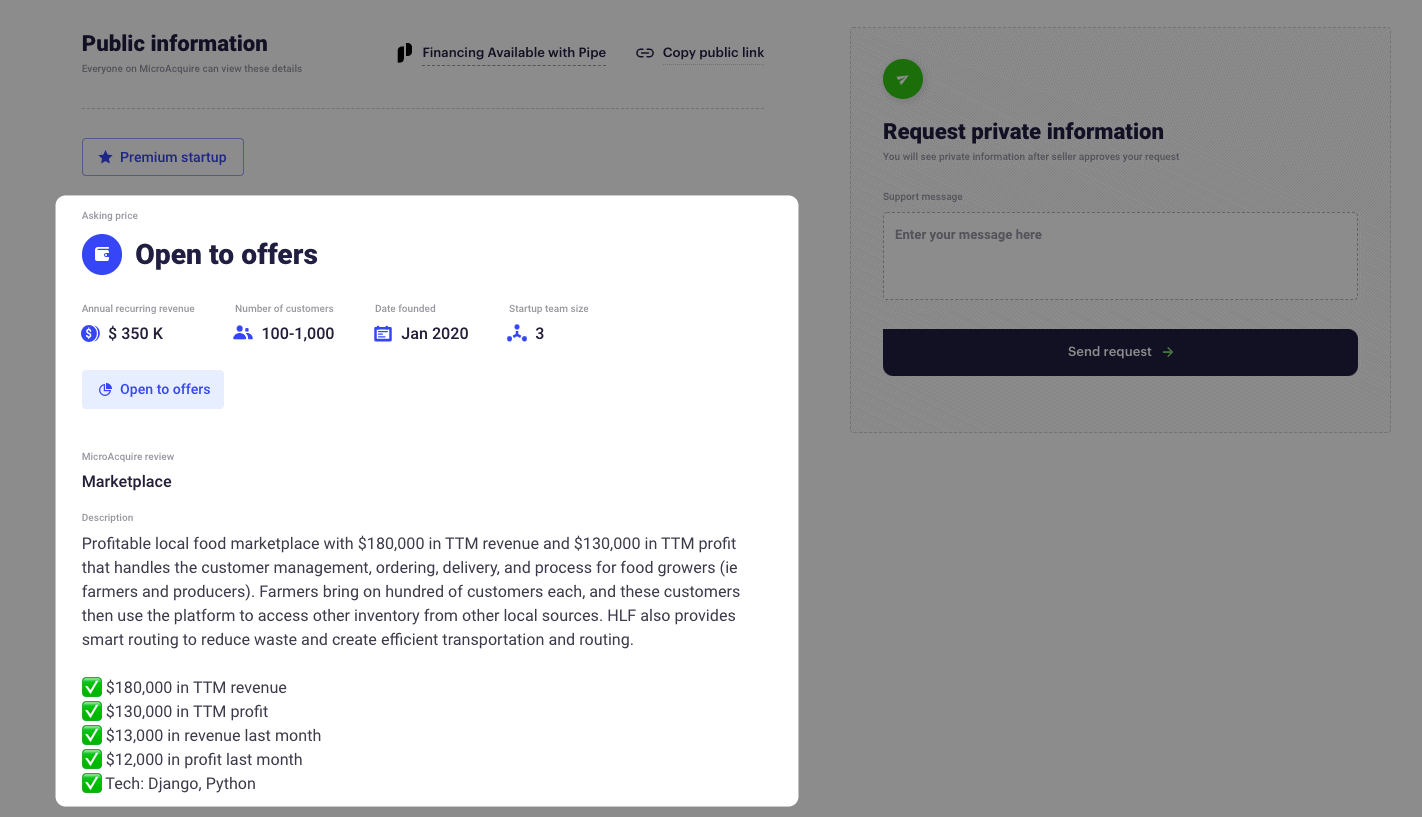 The listing information is only available to buyers who have signed up with MicroAcquire. So there's no information just publicly out there for anyone to look at. The information sellers provide for the buyers include: What the business does, its niche, reason for selling, asking price, forecast for growth, financing or funding options, and the seller's pitch deck.
Communication is done privately as potential buyers can reach out, the seller receives information at which point they give the website URL, company name, or any relevant information that is needed for the negotiation.
2. What Listing Information Is Provided Privately to Buyers?
This depends on the seller. Generally, information like website URL, information required for vetting & due diligence, and any information needed during the negotiation is given. Since the seller is negotiating directly with potential buyers they have control over this process.
3. What Vetting or Due Diligence Is Provided?
The majority of the responsibility for confirming numbers and coming up with a fair valuation is on the buyer. MicroAcquire basically makes the introduction and beyond that, it's up to the buyer to have capable due diligence to decide whether to buy or walk away.
4. How Is the Migration of the Business Handled?
Directly by the seller and buyer. It's up to them to come up with an appropriate plan for migration, escrow, and to have their tech guys handle the technical side of things.
5. What Post-Sale Support Is Provided?
None. This is a marketplace to connect buyer and seller, any post-sale support from the seller needs to be agreed on in contract before the deal is complete.
---
The Selling Process with MicroAcquire
The selling process with MicroAcquire Brokerage is relatively simple.
Account Creation
An account needs to be created. Sign-up starts with an email attached to a domain or with a LinkedIn profile. Once the account is created, filling out the profile is a relatively straightforward process.
At that point, crucial information is asked for. The company name, URL, and it's up to the seller to put together earnings reports, growth forecasts, and a pitch deck before going live with the listing.
When the seller is satisfied, they give the go-ahead for the listing to go live. Private inquiries come in and can then be answered by the seller to feel out potential offers.
Connection to Potential Buyers
Startup buyers on the MicroAcquire platform can see the basic numbers and information provided to see what businesses look appealing to them, and which ones they want to pass on. The buyers then contact the seller via private message and direct negotiations and discussions can begin from there.
Vetting & Making a Deal
Buyers are going to want the information they need to fully vet the deal from confirming revenue numbers to seeing the growth expectations and market outlook. They might disagree with some assessments and that's where the negotiations on price can shift based on new information.
Vetting is a crucial part of the process handled directly between buyer and seller, but giving access to things like Google Analytics or screenshots of earnings should be expected.
Terms of Sale Are Agreed Upon
When the buyer and seller come to terms a letter of intent is provided by the buyer. The seller accepts it and at that point, the deal is made. Formalizing the contract that fills out all the details and following through will be the next steps.
Sale & Post-Sale Work Is Completed
Follow through with the agreed-upon terms and the seller will receive payment from the buyer, hand over the business, and the transaction is completed.
---
FAQs About MicroAcquire
How big does your business need to be to use MicroAcquire as a seller?
There doesn't appear to be a minimum revenue number though obviously the healthier the numbers and the market, the more interest there will be in buying for a good price.
Is MicroAcquire legit?
MicroAcquire is 100% legit. This is an excellent marketplace that also takes an active role in helping buyers find the right startup businesses on sale they might be interested in. This helps create demand for the seller and gives them multiple options for talking to prospective buyers and coming up with a good deal.
Is MicroAcquire better for buyers or sellers?
MicroAcquire can be great for both parties. After all, the best deals are ones where both parties are happy with the end result. That said, MicroAcquire is better for buyers and sellers who have experience with migration, buyouts, and escrow.
This is because MicroAcquire is a marketplace setup, not a brokerage, so the additional support that relative newcomers appreciate from brokerages won't be there.
If MicroAcquire doesn't charge fees, how do they stay in business legitimately?
On the buying side the listings are made widely available after about a week. For buyers who want first crack at new listings and profitable businesses that meet the standards of what they're looking to acquire, MicroAcquire Premium gives them first crack.
This is an annual subscription service (currently $290/year) that lets those paying for Premium to get first shot at new businesses listing in the marketplace. Being among the first in line to give a solid pitch to a seller puts them in a better position to make that deal.
These memberships result in 100% of the revenue made by MicroAcquire.
---
Summary of MicroAcquire Marketplace: Is It Right For You?
MicroAcquire Brokerage offers another excellent option when it comes to buying or selling an online business.
Pros
Virtually no fees, or no fees, for both buyer and seller
Excellent number of hot leads for sellers talking to legitimate buyers
Great variety of business opportunities for buyers from motivated sellers
Strong growth among buyers and sellers is a very good sign
The wide variety of businesses is great inspiration
Cons
Doesn't offer full sale and migration support like many brokerages do
Negotiations can be rough for beginners
With more control comes less support if things go wrong
---
Which Broker Is Best For You?
Fill out the questions below and we will match you with a brokerage that's fit for you.
---
Wrap Up
The MicroAcquire marketplace is an outstanding option for both buyers looking for a good deal on a profitable online business and sellers confident in their ability to work out a deal and handle the technical side of things thereafter.
For buyers and sellers who have been through the buying and selling process a few times, MicroAcquire's marketplace can be a great way to find fantastic deals while avoiding large fees and finding a good deal that might not be available elsewhere.