Flippa is the leading website marketplace of online businesses and websites today with over $400 million in sales since 2009.
Flippa is my number one source for finding website deals and I have bought or sold over 152 websites on Flippa since I started on the platform in 2010.

In fact, some of my best deals were purchased on Flippa. My dating site case study was earning $896 per month when I purchased it on Flippa and it grew to $6,000/month after 8 months. An outdoor site I purchased on Flippa was earning $300/month and now earns an average of $4,000/month, and was sold for $175,000 in Q1 2022.
In this write-up, I discuss some of the benefits and potential pitfalls of buying and selling content websites on the Flippa marketplace.

Let's get into it!
---
5 Major Benefits of Buying Websites on Flippa
1. Opportunity to Find Under-Monetized Websites
Sellers on Flippa have a wide range of experience levels from hobbyist bloggers to professional website flippers. You are much more likely to find a website on Flippa with lots of opportunities for easy wins that will grow revenue quickly because there are hobbyist bloggers who have not optimized their website for monetization.
In contrast, sellers on marketplaces like Empire Flippers are usually experienced website operators who have already implemented easy optimizations for traffic and revenue.
2. A Large Number of Website Listings
While other brokers or marketplaces may only have a couple of new website listings each week, Flippa has far more website listings because of its large user base of 1.5 million people. As a result, you will frequently find attractive website deals to evaluate.
3. Lower Sales Multiple Compared to Brokers
The sales multiple on Flippa tends to be lower than brokers like Empire Flippers and Motion Invest. The seller sets their own valuation on Flippa and there isn't a broker pushing the seller to only accept offers above a certain amount.
4. Lower Sales Commission for Sellers
The sales commission or success fee of 10% or less is lower than brokers like Empire Flippers and Motion Invest. Flippa also guarantees to beat any broker's sales commission by 1% if you send them the quote. For buyers, this can mean a lower sale price because the seller gets to keep more of the total sale amount.
5. Large Audience of Buyers
When listing a website on Flippa, you will have access to the largest audience of potential buyers with over 1.5 million users and over 300,000 email newsletter subscribers.
According to SimilarWeb, Flippa gets 1.19 million visits per month as of August 2021.
---
4 Major Drawbacks of Flippa
1. No due diligence unless purchased
While Flippa does basic vetting, they do not perform detailed due diligence. Vetting includes verifying if the seller is the owner of the website, if screenshots are attached, if P&Ls is included, among others. Due diligence is where the broker/marketplace reviews all data (earnings, SEO, etc) to ensure the seller's claims are verified.
As a buyer, however, you can purchase a due diligence service from Flippa as an add-on where they will help you through the buying process.
Note that since due diligence is not done by default, there can be many poor-quality websites with low-quality content, risky backlink profiles, or outright scams.
2. Lots of Low-Quality Websites to Filter Through
There are far more listings on Flippa compared to other marketplaces because anyone can list a website. This means you will have to filter through a lot of low-quality websites to find high-quality ones.
3. No Migration Help Provided
Flippa does not help transfer the website from the seller to the buyer like brokers such as Empire Flippers and Investors.Club.
This can increase the risk of the deal since something could go wrong during the website transfer (e.g. the website breaks when it is moved to a different hosting company).
4. Escrow Fees
Most major website marketplaces like Empire Flippers, Motion Invest, and Investors Club provide their own escrow service by holding funds until the website transfer is complete. 
However, with Flippa, you need to use a third-party escrow company like Escrow.com. Escrow.com charges a fee that ranges from 0.89% to 3.25% of the purchase price. This Escrow fee is charged to sellers on Flippa's standard listing package of $29. However, if an upgraded listing package is purchased, the Escrow fee will be waived by Flippa.
---
Flippa Competitors: Empire Flippers and Motion Invest
Check out the different Flippa alternatives and how they match up:
| | Flippa | Empire Flippers | Motion Invest |
| --- | --- | --- | --- |
| Auction Type | Auction | Fixed Price | Dutch Auction |
| Sales Commission | 10% or less* | 15% or less | 20% or less |
| Listing Fee | $49 | $0 | $0 |
| Users | 1.5 million | 195,000 | n/a |
| Live Listings | 5000+ | 150+ | 10+ |
| Exclusivity Agreement | While listing is live | 2 months | 31 days |
| Vetting | No | Yes | Yes |
* The sales commission for Flippa is 10% if a partner broker like The Website Flip is used.
---
What Types of Websites are Offered?
Flippa lists all types of websites on their marketplace including niche content websites, eCommerce websites, SaaS websites, and even online service businesses like an SEO agency.
---
What Listing Information is Provided?
Flippa provides the following data points on its listing:
Current price
Reserve price (may be hidden)
Buy now price (optional)
Seller name
Seller feedback rating
Seller's total transaction amount on Flippa
Seller's location
Semrush authority score
Semrush referring domains
Semrush total backlinks
Semrush total keywords
Semrush top keywords
Date domain was registered (website age)
Domain registrar
Whether the site was built with WordPress or another platform
I will break down the details of Flippa listings below, but make sure to also check out my write-up on how sellers optimize listings. You can use that knowledge to "reverse engineer" a seller's thought process which will help with your due diligence.
Traffic
If the seller allowed Google Analytics access, the following traffic stats are provided:
Unique visitors
Unique page views
Pages per session
Average session duration
Bounce rate
Percentage of traffic from organic search
Page views by country
Financials
The Financials provides a monthly breakdown of claimed revenue, costs, and profits.
These numbers are manually entered by the seller and are not verified by Flippa. The exception is that Adsense revenue is verified automatically if the seller grants Flippa access to their Adsense account.
Seller's Notes
This is the website description where the seller can add any information about the site. This may include:
Why they are selling
Link building tactics used (any PBNs?)
How much time the seller spends on the website per week
How the new owner can improve the website
Assets included in the sale
Social media accounts and followers
Main revenue sources
Attachments
This section includes screenshots such as earnings screenshots from affiliate programs and display ad networks.
It is important to examine these screenshots carefully to verify the revenue claims made by the seller. As I covered in my Flippa Scams article, it is easy to modify the numbers from online reports by changing the HTML of the page with the browser.
For example, the following numbers on an Amazon Associates report can be modified by changing the HTML with the browser: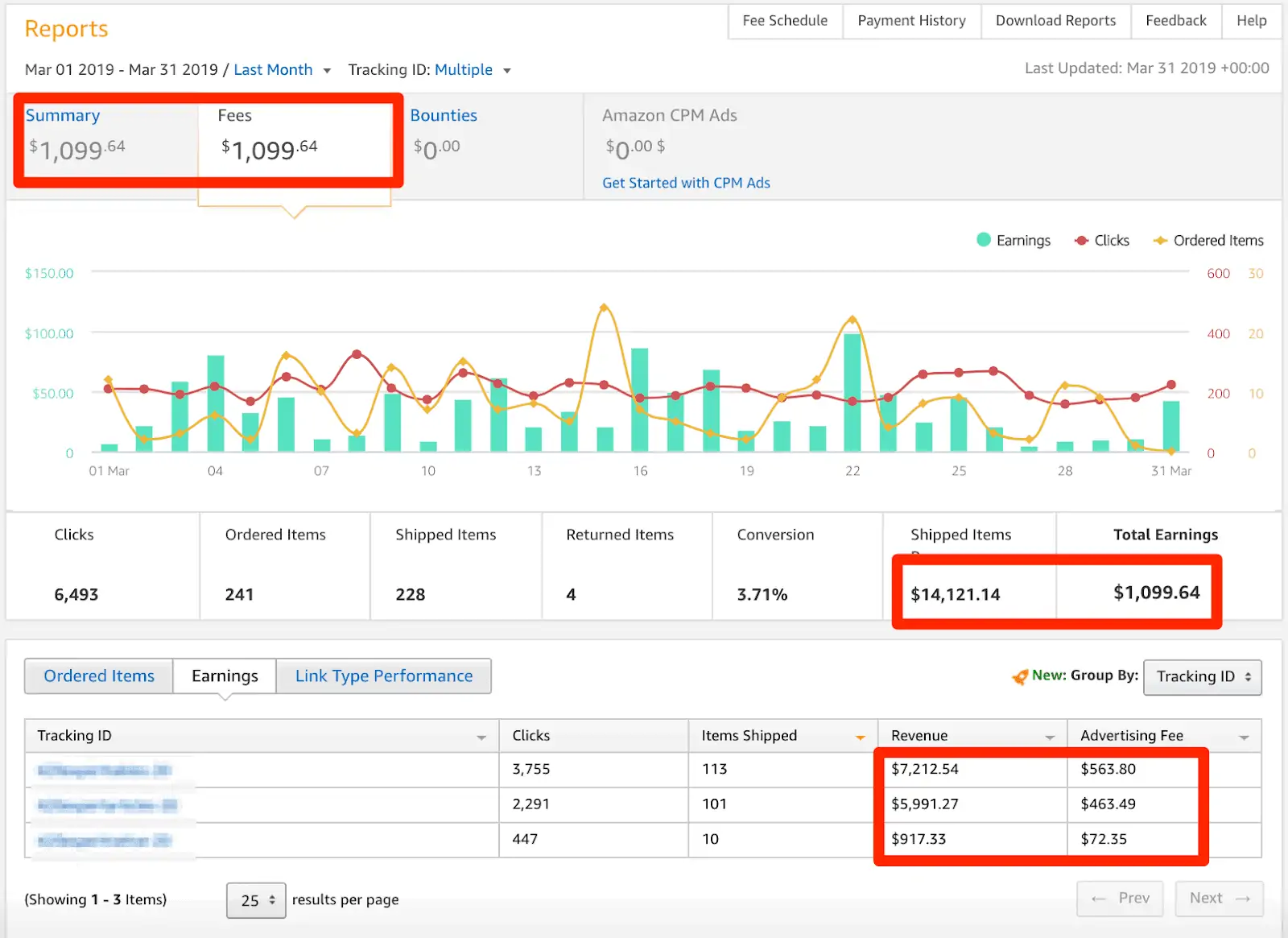 One way to verify that there were no modifications made to the reports is to have the seller make a video of the earnings reports and to refresh the page so you can tell the HTML wasn't modified. Another way is to ask the seller to have a conference call where they share their screen and refresh the page.
---
What Vetting or Due Diligence is Provided For Buyers?
Flippa does not perform detailed deep-dive due diligence on listings. However, they do vet listings to verify if the seller owns the business, if screenshots are attached, P&Ls included, the description included, etc.
For buyers that are interested, Flippa provides add-on services to purchase due diligence.
Flippa's Due Diligence Service
Although Flippa does not vet websites before they are listed on their marketplace, they do offer a due diligence service for buyers with three options:
Red Flag Report: $1,000
Standard Report: $1,500
Enhanced Report: $2,000
Some items checked during Flippa's due diligence include:
Verification of revenue
Any payments made from personal accounts to boost revenue
Breakdown of expenses
Any costs that were hidden
Any bot traffic
Any Google penalties
Time required to run the website
Any Google or Amazon policy violation warnings
Any duplicate accounts on Flippa that match the seller's address
If the seller has any competing business interests
Any potential issues in transferring the website
Not all items are checked unless you pay $2,000 for the Enhanced Report. Although the Flippa due diligence service can uncover important information, you can find a lot of this information on your own and it may not be worth the cost for smaller websites.
---
What Communication Methods are Available With Sellers?
You can send a direct message to the seller by clicking "Contact Seller" or you can leave a public comment on the listing page.
Direct Message Example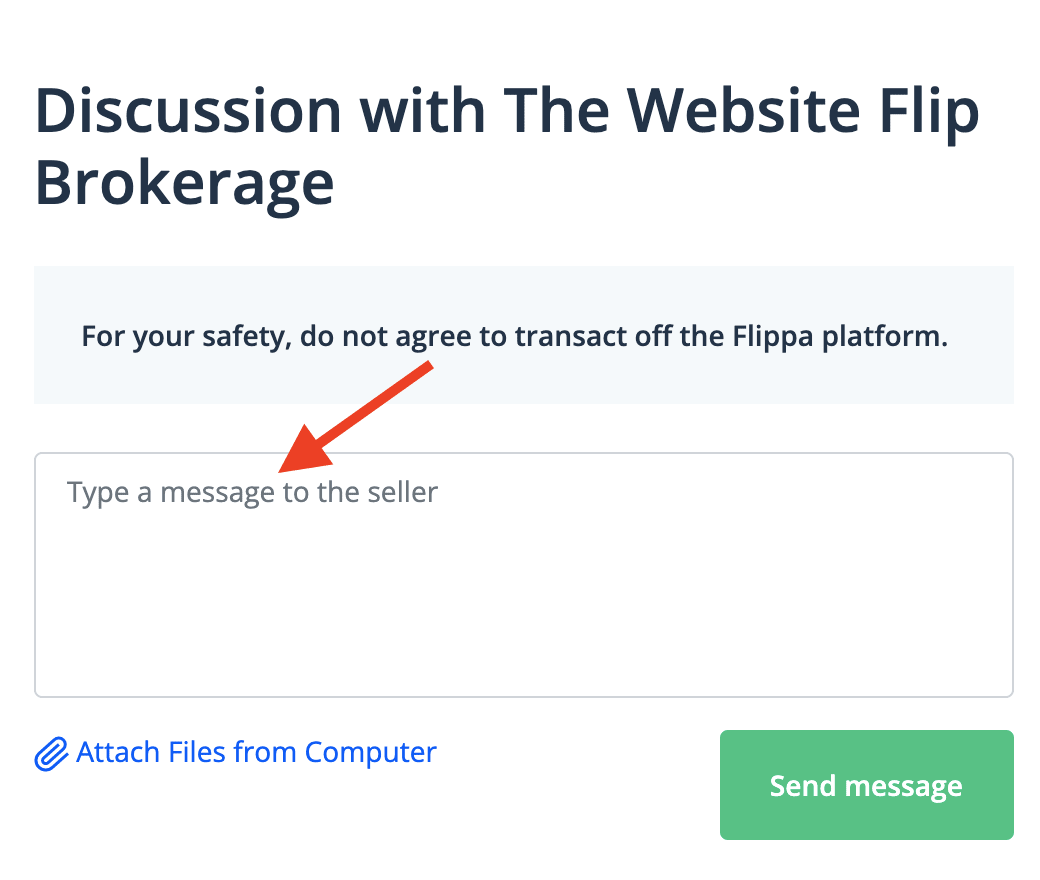 Comment Message Example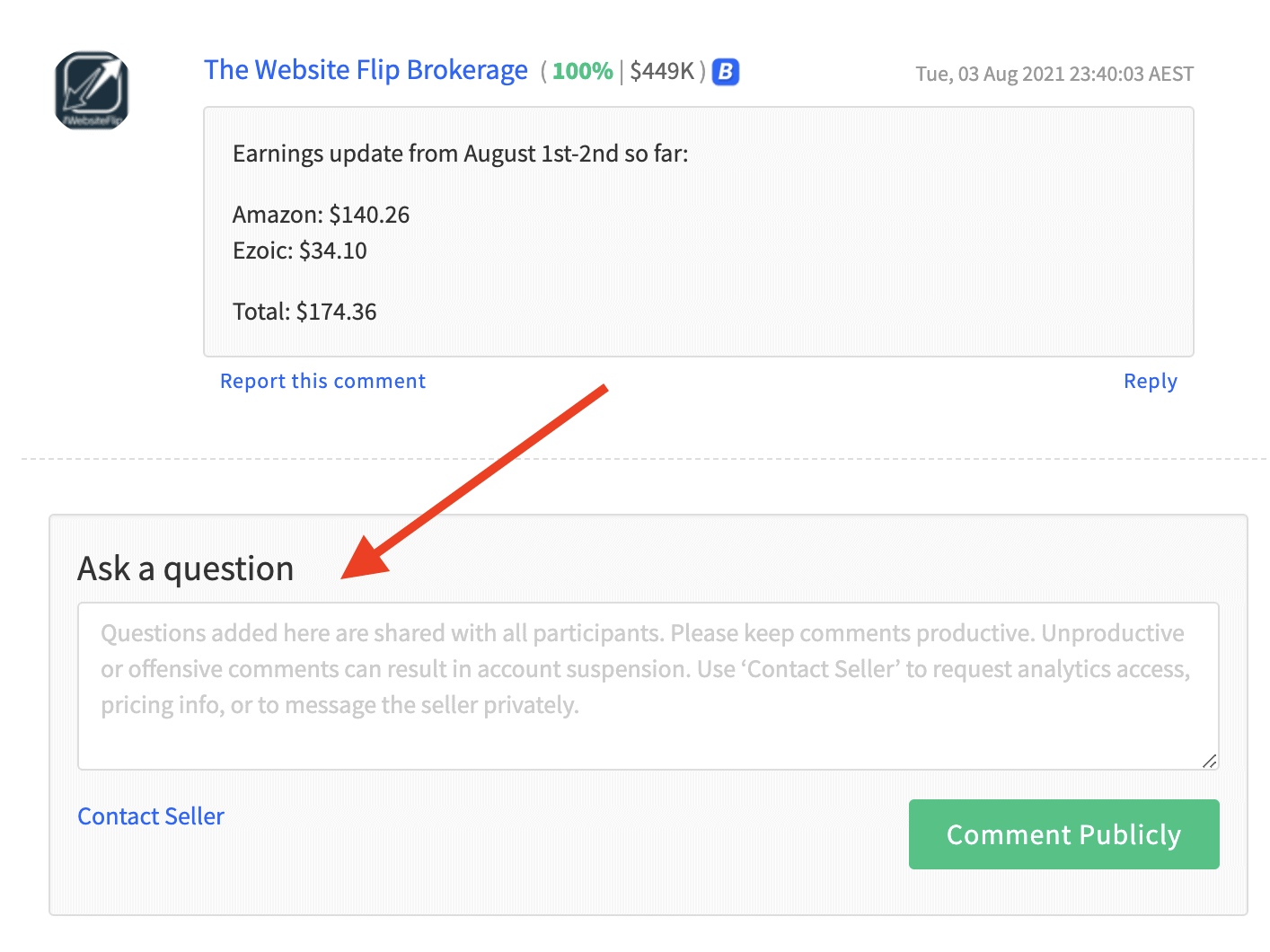 ---
How is Website Migration Handled?
Flippa doesn't provide any website transfer service or handle the website migration like brokers such as Empire Flippers, Motion Invest, and Investors Club.
The buyer and seller are on their own to execute a successful website transfer to complete the sale.
If you don't want to deal with the complicated website transfer process yourself you can consider one of the following options:
Hire a WordPress migration service
Sign up for an account with the same hosting company that the seller uses and ask support to transfer the website to your account
Ask your hosting provider (e.g., Cloudways) to transfer the WordPress site to your new account.
---
How Long is the Inspection Period?
Flippa integrates with Escrow.com for payments and the inspection period with Escrow.com is preset to 7 days.
---
What Post-Sale Support is Offered?
Post-sale support is not required by Flippa but you can negotiate this with the seller.
Some listings provide details on post-sale support which is typically 30 days via phone, email, or Zoom.
---
7 Services and Fees for Selling Your Site On Flippa
1. Listing Fee
Flippa charges a base listing fee of $29 for websites to be listed on their marketplace. If the reserve price for the auction is not met during the 30-day auction period, the listing continues to remain live and open to offers indefinitely (unless you contact Flippa to hide the listing).
2. Featured Listing Cost
Sellers can pay additional fees to have their listing featured and promoted by Flippa.
Enhanced ($199): The listing receives higher visibility in search results and is featured on category carousels
Premium ($299): Enhanced Boost plus buyer retargeting, dedicated Flippa agent, and display advertising across Flippa
Ultimate ($399):  Premium Boost plus placement on the homepage and promoted in the Flippa newsletter
3. Sales Commission Fee
Flippa takes a 10% sales commission or "success fee" for websites that sell for $50,000 or less. The commission decreases for websites over $50,000. The commission structure is as follows:
10% for websites sold for under $50,001
7.5% for websites sold for $50,001-$100,000
5% for websites sold for over $100,000
Using a partner broker on Flippa will cost a sales commission of 10% regardless of the sale price. A partner broker helps to sell your site on Flippa which can save you time and result in a higher sale price.

A partner broker performs tasks such as:
Writing an optimized title and website description that will increase visibility in Flippa's search results
Determining a fair market valuation
Creating a P&L spreadsheet
Taking earnings and traffic screenshots
Answering questions from interested potential buyers
Sending prospects from their network and followers
Increasing trust due to the broker's reputation on Flippa
4. Promotion on the email list
Getting your website promoted to over 300,000 email subscribers is a valuable way to get your website listing in front of a lot of potential buyers. Email newsletter promotion is part of the Ultimate Boost package that costs $545.
5. Listing Review & Optimization Report
For $99, Flippa's team will review your listing and provide recommendations for improving and optimizing it. 
6. Non-Disclosure Agreement & Confidential Listing
For $99, you can hide details of your listing like the URL from users unless they sign the non-disclosure agreement.
7. Legal Documentation
Flippa provides a sale agreement template for the buyer and seller to sign prior to the payment being made.
---
Frequently Asked Questions
Are there scams on Flippa?
Yes, there are scammers on Flippa that artificially inflate earnings and traffic or attempt to scam buyers in other ways. Check out my article about common Flippa scams and red flags to learn more. 
Is buying on Flippa a good investment?
If you know how to find quality websites on Flippa, it can be a great investment. I have purchased websites on Flippa that have increased over 500% in valuation in less than one year. 
Keep in mind that content websites that rely on Google traffic have inherent risks and are vulnerable to Google algorithm updates or penalties that can decrease traffic significantly. 
How does the buying process work on Flippa?
When the buyer submits the winning bid at auction that exceeds the reserve price or makes an offer that is accepted by the buyer, then a Sale Completion Area appears in the buyer's Flippa account. Flippa provides a Letter of Offer template and a Sale Agreement template for legal documentation of the sale.
The buyer can use Escrow.com or Paypal to send the funds. Then the buyer and seller work together to transfer the website and included assets (Flippa is not involved in the transfer process). 
---
Final Flippa Review
Flippa is an excellent source for finding content website deals with untapped opportunities for growth. It is also a good place to sell your website for fewer commission fees than other brokers.
Pros
Some sellers are not experienced website flippers and leave a lot of opportunity for improving monetization and SEO.
Typically sale multiples are lower than brokers like Empire Flippers and Motion Invest.
Lower commission rate compared to broker marketplaces like Empire Flippers and Motion Invest.
The highest number of website listings compared to other website marketplaces.
Cons
There are scammers to watch out for since Flippa does not vet websites before the listing goes live.
Buyers need to filter through a lot of low quality websites to find good deals.
The seller writes the listing description and could omit key details like whether PBNs were used or if a Google penalty was applied to the website.
There is no website migration service so the buyer and seller are responsible for a successful website transfer.
There is a fee for escrow services with Escrow.com that range from 0.89% – 3.25% of the purchase price.
---
Wrap Up
This review looked at the ins and outs of the marketplace. Flippa is probably the best marketplace for finding great website deals with the highest opportunity for traffic and revenue growth.
Just make sure to conduct proper due diligence as Flippa is more prone to scams and low-quality sites.