Website Closers is a broker that is one of the few that has been around for 20+ years helping to sell online businesses. They are one of many brokerages out there that specialize in facilitating the buying and selling of online businesses, but few have experience in the industry that Website Closers have.
While they aren't as widely known as Flippa or Empire Flippers, Website Closers has a strong online presence with multiple testimonials and hundreds of verified reviews. 
This long track record gives a lot of information and first-hand feedback over the years to study and get an in-depth look at what this broker has to offer.
Let's get started and dive in!
3 Major Benefits of Website Closers
Every broker or marketplace has its pros and cons, and some definite major benefits come with using Website Closers.
Decades of Experience
Considering the amount of money online businesses, or brick and mortar businesses with a strong online presence can sell for, trusting that to a new marketplace or startup broker isn't the smartest move.
A seller wants someone with experience to give them the best chance of getting a good price for their online businesses. Buyers like a marketplace run by professionals who know what to look for to find (and at least partially vet) an online business.
That experience in the industry shows in the quality of the listings and the way they offer support to buyers in finding financing. This brings more potential buyers to the table looking for a business and that can lead to better prices for sellers.
Outstanding Eye-Catching Listings
A single glance at the "Businesses for Sale" page lets you know they've been in marketing for a long time.
Compared to plain listings often found on many other (including very good) marketplaces for online businesses, the business listings on Website Closers really pop and catch the eye, as this screenshot shows.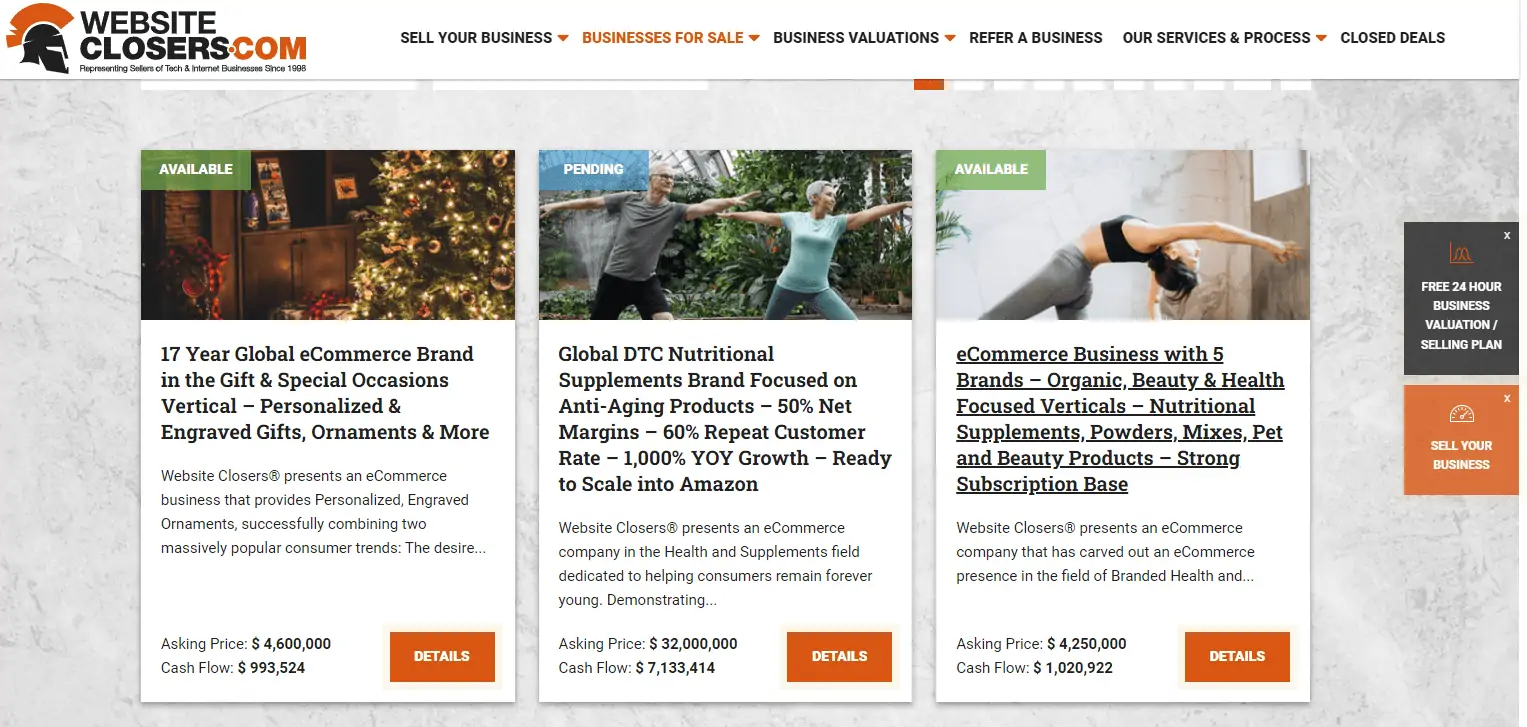 The listings have eye-catching pictures, detailed descriptions that include important information, as well as excellent summaries of what the business is about. The buttons for details pull the eye to get buyers' attention, and it's very easy to find yourself pulled in and browsing listings.
This is an excellent way to allow business owners to put their best foot forward and catch the eye of interested investors.
This is one area where Website Closers does appear to excel compared to much of the competition.
Wide Array of Business Niches/Options
The range of businesses sold by Website Closers is very impressive. From the money perspective, it can go from five figures to nine figures. They have sold businesses priced north of $100 million, and as low as $25,000.
Outside of the numbers, they also work to sell businesses that are based on product lines or large brands that involve actual product production, not just businesses that are dropshipping, FBA, or other similar online models.
That leads to a wider selection of business types and opportunities for investors looking to diversify, know a particular industry well, or are willing to look beyond the conventional "online business" models to find a profitable business to grow and scale.
---
Website Closers vs FE International vs Quiet Light
How does Website Closers compare to some of their most common competitors like FE International or Quiet Light? Let's take a look.
Fees
This is harder to compare because Website Closers doesn't publicly list their fees. From reaching out to prior customers I know that the fees are on a sliding percentage basis with the percentage of sale increasing the larger the sale.
FE International doesn't list fees either as this is decided on a case-by-case basis with each sales contract. That said, collected data suggests the average range with an FE International sale is 10-15%. There are no listing fees.
Quiet Light scores well on the fee front with fees starting at 10% on sites up to $1 million and then the commission percentage going down 1% for each additional $1 million on the sales price down to 3% for sales at $7 million and above.
Customer Service & Support
All three have a reputation for excellent customer service, with the biggest potential hurdle being the size of the business. FE International, for example, focuses on larger businesses and so a smaller sale might not get the attention or be able to list there.
The degree of support also depends on what the buyer or seller is looking for. Website Closers have teams that work to help acquire SBA funding and excel in this area. Quiet Light is known for especially strong guidance throughout the actual sales process.
The exact needs and focuses of the client determine which broker is best, but all three have high marks from both past buyers and past sellers.
Specialties
While all three of these brokers sell multiple types of online businesses, some clear specialties emerge.
FE International focuses on six figures and above for businesses, meaning they are not the best option for businesses that are going to sell below that. 
Quiet Light sells all types of online businesses but they have gained a reputation for being especially good at selling Amazon FBA businesses. This makes them a good choice for investors looking for an FBA business, or a seller who wants to make sure there will be appropriate interest for theirs.
Website Closers are incredible when it comes to helping a buyer get funding to pick up a business. They know SBA programs in and out, which means many potential buyers can get inexpensive government-backed programs to acquire a business for a down payment that is a fraction of the total selling price.
Results
In the Website Closers vs FE International vs Quiet Light brokerage question, there are different things that each one does particularly well.
There also is not a clear winner or loser as each of them has strengths and weaknesses that will make them good for some buyers/sellers and not the ideal choice for others.
---
What Types of Online Businesses Are Offered for Sale?
Website Closers doesn't focus on just one type of business. They are interested in online businesses that run the gamut: Amazon FBA, dropshipping, affiliate websites, online brands, product lines, etc.
The wide array of different businesses that show up on sale do make Website Closers stick out from many other brokers. Especially the variety of businesses that come with actual inventory, product lines, and other assets that many popular online business models don't have.
---
Website Closers Commission Fees
The commission fees are not publicly listed on the Website Closers website. Discussions with past sellers indicate that the commission structure is on a sliding scale and tends to work the opposite of how most sellers do it with the commission percentage increasing with the size of the sale.
An article on the site points to a 6% to 15% range as being the most common among online website brokers, but it doesn't set either number as the low or high of what they charge.
The commission fees are going to vary on a per-case basis.
---
The Buying Process with Website Closers
Understanding the buying process Website Closers uses can help a buyer to make a decision as to whether or not they're the right broker to work with.
What Listing Information Is Provided Publicly to Everyone?
A lot of information is made public to drum up interest. The asking price, cash flow, gross income, number of employees, and age of the business are made public. So are selling points like brand recognition, any general product line, as well as the niche/industry the business is in.
Details like business name or that would give away the identity of the business are not public.
What Listing Information Is Provided Privately to Buyers?
The name of the business, detailed numbers for more through vetting, and related details like location of the business, names of any brands, and business-specific details that are relevant to making an informed buying decision.
What Vetting or Due Diligence Is Provided?
Website Closers is known for a fairly thorough vetting process that confirms profit numbers, assets, and does investigation into brands attached to an online business.
This doesn't excuse an investor, as every buyer should always perform their own in-depth due diligence but Website Closers is known for a very solid initial due diligence.
How Is the Migration of the Business Handled?
Not a lot of details are given about how the actual handover process takes place. Statements are made of full support given so it's reasonable to assume that the use of an escrow service and guidance for technical migration is provided, but this needs to be confirmed by potential buyers working with a Website Closers agent.
What Post-Sale Support Is Provided?
There is no information provided publicly about post-sale support, so it's important for buyers not to assume any unless otherwise stated in contract.
It is possible to negotiate for a certain amount of post-sale support during the negotiations phase of the deal.
---
The Selling Process with Website Closers
Giving the selling process with Website Closers a closer look can give a good idea of whether or not it is the right option for selling your business.
Account Creation
The first step is creating an account with Website Closers. This allows a listing to be made and the proper details to be loaded for a writeup that will attract the eyes of potential buyers.
Connection to Potential Buyers
There are many buyers who frequent Website Closers, and return buyers who Website Closers will sometimes reach out to if the business being listed matches the type of business that repeat buyers seem to be looking for.
These connections, and the creation of a listing, help to drive interest from qualified buyers to a listed business. This is an area where Website Closers tends to shine because of their ability to arrange financing.
Vetting & Making a Deal
While Website Closers does a fairly impressive amount of vetting in the beginning of a potential sale, the potential buyer gets information to do their own due diligence at this time.
After that due diligence it's time to set up funding or try negotiating a lower sales price to make the deal.
Terms of Sale Are Agreed Upon
During negotiations not only the final sales price, but all other terms of service need to be agreed upon and put into a written contract.
Sale & Post-Sale Work Is Completed
Once a contract is agreed upon the sale is made and post-sale work to migrate the online assets and transfer the business are completed to finish the transaction.
---
FAQs About Website Closers
Three main questions seem to come up from potential clients looking at Website Closers.
Is Website Closers legit? 
Website Closers is a legitimate online business marketplace. They have helped online business owners sell their businesses for over two decades and are one of several excellent options for sellers, and a good marketplace for buyers to check out.
Is Website Closers better for buyers or sellers?
Website Closers receives many high marks with both buyers and sellers, though sellers in particular seem happy with the quality of the listings and many feel like they received more excitement or support selling here than in other places.
How big does your business need to be to use Website Closers as a seller?
Website Closers does tend to focus on larger businesses, as they define anything below $6 million valuation as a small business. 
The lowest amount a business publicly sold for was $25,000 with the average cheap businesses listed in the $40,000 to $50,000 range.
---
Summary of Website Closers: Is It Right For You?
There's a lot to like about what Website Closers brings to the table, but it's not going to be right for everyone.
When looking at the pros and cons of Website Closers it's clear this is a unique online brokerage that offers a wide array of online businesses to investors and is a great option for many sellers whose businesses are based on product lines and brands as opposed to simple FBA or affiliate setups.
While it might or may not be the right choice for selling your site, they are a legitimate broker who are definitely worth a look.
Pros
Open to selling a wide variety of businesses compared to most marketplaces
Over two decades of experience in the business broker business
Excellent team helping to secure financing for buyers
Can sell very expensive or high-value businesses
Great listings
Cons
Not especially clear commission structure
Not right for small online businesses
Can take longer to close a deal since more time is spent on negotiating terms and finding the right fit
---
Wrap Up
Website Closers has over two decades of success under its belt, and they don't appear to be slowing down anytime soon. There's a lot to like about what Website Closers brings to the table as a broker and they manage to do something few other brokers have: stand out in a good way from the crowd.
The marketing experience of the staff is used to help sellers find the best possible price and a large number of positive reviews over the years shows they have done a very good job for the buyers and sellers who have used them.
They are a legitimate broker with an impressive track record and are worth a serious look by both buyers and sellers.