This outdoor authority site earned $3,779 in April 2021 and $3,804 in May 2021. I decided to bundle two month's into one case study since there was not much activity.
I've diligently re-invested a significant portion of the profits each month to grow this site. However, for the time being for the next 6 months, the site will enter the maintenance phase of a website flip's lifecycle. This is because there has not been a "hockey stick" growth in traffic in relation to the amount of content getting added.
This is a sign that we need to "wait and watch" to see where to make improvements, and build up a "war chest" of cash from the profit of the site for future investment.
I cover the following in this month's write-up:
Website metrics from April and May 2021
Profit and loss
Hiring content updater
Decision to enter stabilization phase
Next steps
For the previous update in March, check out this post, or check out all the posts here.
---
📈 Site Recap
Purchased in April 2020 for $23,000 from Flippa auctions. The site was earning $300/mo.
Last-6-month revenue (L6M) average is $4,075/mo
70,000-90,000 pageviews per month on average depending on time of year
AHREFs DR of 51 with backlinks from NY Times, Wikihow, Wikipedia, NY Post, Marketwatch, and 2,000 other niche relevant referring domains
Website has been active since 2010
863 articles published, 849,778 words total
12 different revenue streams including Amazon Associates, private brand partnerships, affiliate networks, and display ads
Email campaign with 32 emails that get sent to new subscribers
Two dedicated writers who are niche experts
📈 Highlights
12 published articles in April and 32 in May. Total of 44 new articles
Hired my main writer hourly to update content
Updated 106 articles with better formatting, and some with new content
📉 Setbacks
Traffic is not growing in relation to new content being added or updated
Traffic has slightly decreased in May Google update
Let go of website operator in May 2021 to keep costs low
---
📊 April 2021 and May 2021 Website Metrics
Traffic Breakdown (April 2021):
In April, many sites were bombarded with bot traffic. You can see that bump from April 5th to April 7th.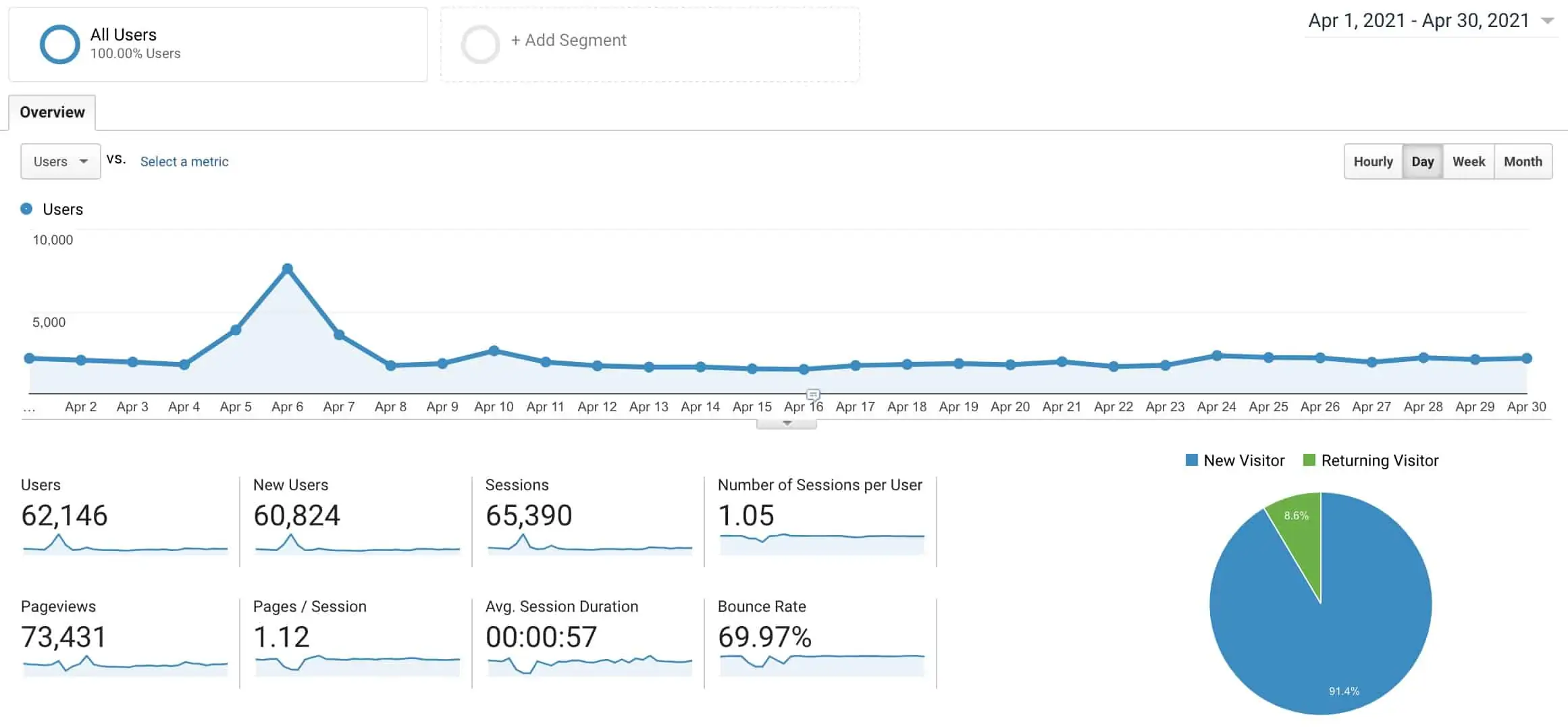 Traffic Breakdown (May 2021):
In May, the site started to downtrend slightly. See below:
AHREFs Metrics
Revenue Breakdown
Here is the breakdown of P&L for April 2021:
Revenue: $3,779
Costs: $1,530
Profit: $2,249
Here is the breakdown of P&L for May 2021:
Revenue: $3,804
Costs: $1,298
Profit: $2,506
Cost Breakdown
Of the costs, $650 was for the website operator to manage the site and social profiles in April but in May that cost was removed.
About $1,550 was for new content written by my two main writers at $30 and $40 per article each. I hired my main writer at $15/hour to update old content, which equated to $589.
---
👉 Major Updates
106 Articles Updated
I brought on my main writer in May 2021 to update all old content. Some content was added to the site back in 2010 which have not been updated since them. My writer asked for $15/hour to go through and update content, improve formatting with headers and spacing, and add new images.
The process was as follows:
Writer is given Editor access in Wordpress
Writer is told to work backwards from the Blog/Archive page one article at a time
Writer is told to keep a Google Doc update with the URL of the page, and bullet list of things changed, and hours worked
That's it. I do not use any time trackers since I trust the writer. However, you can utilize third-party tools if needed.
After he updates the content, I perform the following steps:
Update the publish date if and only if more than 200 words (a paragraph or so) were added to the article
Leave as-is if only formatting was done
I do not update the publish date unless fresh content has been added.
The Notorious Traffic Rollercoaster
The site has been on a rollercoaster of ups and downs the past several months due to seasonality plus the plethora of Google Core and Algorithmic updates that have launched.
Here is the Google Search Console traffic graph for the last 16-months:
My team and I have been deploying at least 30-50 new articles month over month to the site. While some new content ranks, others drop down, so the net effect is the same traffic levels on average across a long horizon.
On the flip side, the organic keywords are climbing on a daily basis. See the AHREFs keyword positions:
As you can see, all positions are increasing. While this is a good sign, the traffic has not shown to increase and actually has been decreasing. Plus partner that with seasonality in this niche, it's a challenge to understand how much to reinvest.
This is a sign to cut back and monitor going forward, i.e., the maintenance phase of the website flip lifecycle.
Here are the main reasons:
Investing into new content does not make sense if the traffic is not increasing over time
Sitting on the sidelines and watching what happens to the site (whether positive or negative) is just as important as being in full growth mode
Not adding new content will give me an unbiased look into what silo topics are working well
---
👉 Plans for June 2021
The site will be in maintenance mode until there is an uptick in traffic. During this mode, the following will take place
Writers will produce 3-5 articles per month to keep the site active
Affiliate links and CRO will be done on articles that reach more than 50 visitors over last 30 days
The goal is to cut costs down to less than $500 per month. This will allow me to build up the "war chest" for when the site traffic shows increase and warrants further investment.
That's it for this update. Stay tuned for next month's update.