One of the most important decisions when starting a niche site is which niche to focus on. Even if you are not starting sites, but focusing on buying a website (which is what I do), then you still need to decide on which niche(s) to focus on.
Rather than picking a random niche that sounds interesting, you can do some initial research on factors like competitiveness, profitability, popularity, and costs.
This article will provide a 14-step framework for evaluating a niche before committing your time and/or money, and at the end a checklist to follow.
Let's get into it.
---
1. Analyze Number of Competitors (using Ahrefs)
You can get a good sense of the competition level in a niche by surveying the number competitors in the niche.

A good way to find competitors with Ahrefs is to enter a site in this niche into Site Explorer and then click on "Competing Domains" on the left sidebar menu. Export the list of competing domains and add them to the "Competitors" tab of your Google Sheet.

You can manually collect the data on DR (domain rating), Referring Domains, and Organic Traffic by clicking on the down arrow icon (since this data is not included in the export).
---
2. Check Authority of Competitors
It is a good idea to check the website authority of competitors and a good proxy for this is Ahrefs' domain rating (DR) and referring domains.
Simply plug a competitors' URL into Ahrefs Site Explorer and it will display the domain rating and referring domains.
We can add the domain rating and referring domains in the "Competitors" tab of our Google Sheet to be able to sort and compare.

Note that the referring domains include "nofollow" links. To get more useful data, you can replace this data with "Dofollow Referring Domains" from Ahrefs instead. This data is provided by entering a website URL into Ahrefs Site Explorer.
---
3. Check Keyword Difficulty of Top Keywords
To analyze the difficulty of a niche, you can learn a lot by adding a list of top keywords and their difficulty level into a Google Sheet.

One way to collect keywords fast is to enter a competitor's URL into Ahref's Site Explorer and export all the keywords as a CSV.
In this example, we are exporting the top keywords from the public case study site and then copying the keywords, keyword difficulty score, and volume into our Google Sheet.
If you've gathered a list of competitors in your Google Sheet from Ahrefs, you can export each competitor's top keywords and add it to the list.

The final step is to sort the keywords by difficulty and you will see whether there are a lot of low competition keywords with good search volume.
It is helpful to know how Ahrefs calculates their keyword difficulty score. Ahrefs explains that "Keyword Difficulty gives an estimate of how hard it is to rank in the top 10 organic search results for a keyword on a 100-point scale" and it is largely based on the average number of sites linking to the top 10 pages in search results.
There are numerous other ways to collect keyword ideas for a niche such as entering seed keywords into Ahref's Keyword Explorer and checking Google's "Related Searches" or "People Also Ask".
---
4. Check Content Quality of Competitors
Although a niche may have several competitors, there may still be a great opportunity if the content quality is poor. Some niche sites have content that is poorly written by non-native English speakers.
Another common example of low quality content are product review sites that basically rewrite Amazon product pages with little effort. Other examples of low-quality content include spun content or AI generated content that is obviously not written by a human or user-generated content from forums like Reddit or Quora (forum content is often not SEO optimized and too short).

When you spot any of these low-quality content examples, it could mean that there is a good opportunity for you to fill a gap that exists in the niche by offering useful and valuable content that is well-written and answers the searchers' query.
---
5. Check for Large Publishers
If there are any large publishers like Wirecutter with articles in the niche, it might not be a good niche to pursue. Google tends to favor large publishers and established brands in search results and these publishers have very high authority from thousands of referring domains.
Large publishers tend to publish product reviews on popular mainstream products like laptops, lawn mowers, vacuum cleaners, and flat screen TVs.
Some examples of large publishers that publish product reviews include:
Wirecutter
Insider (formally Business Insider)
Forbes
The Spruce (formally part of About.com)
The Verge
CNET
---
6. Check Popularity Trends with Google Trends
Google Trends is a free tool for checking the popularity trends of a specific keyword.
Some niches are fads that have decreased in popularity over time. An example is "fidget spinners" which peaked in 2017 and Google search volume has decreased dramatically since then.
Other niches are more steady and evergreen like "acne diet". This keyword has been relatively flat in popularity over the past 5 years and will likely continue to have the same popularity in the future.
You may also consider a niche that has been growing significantly in popularity like "cryptocurrency".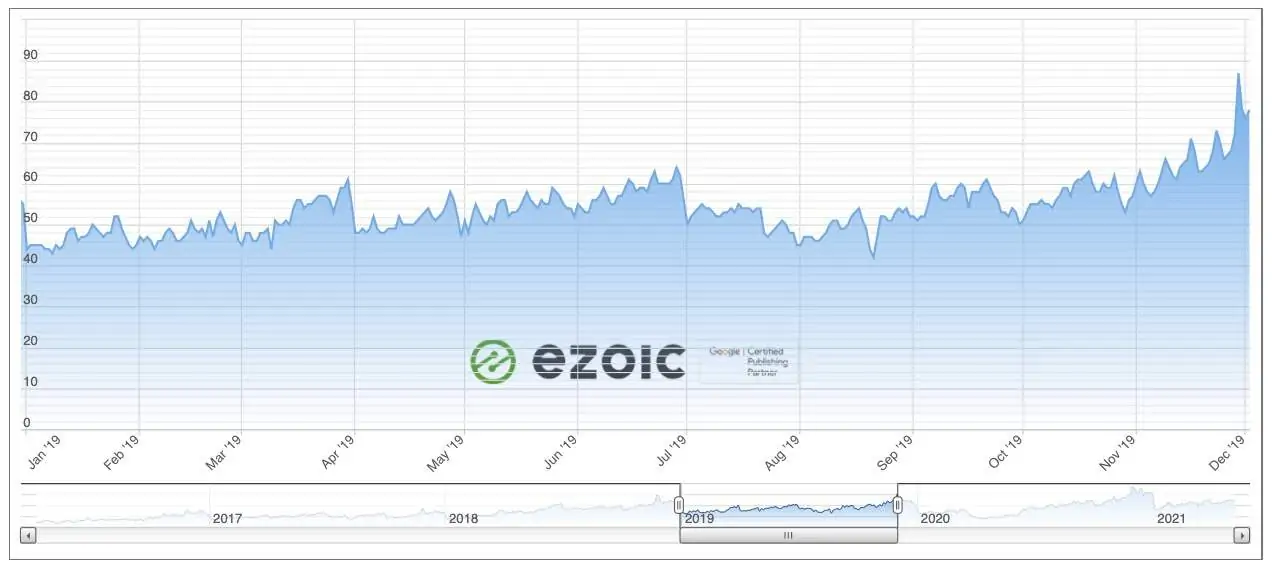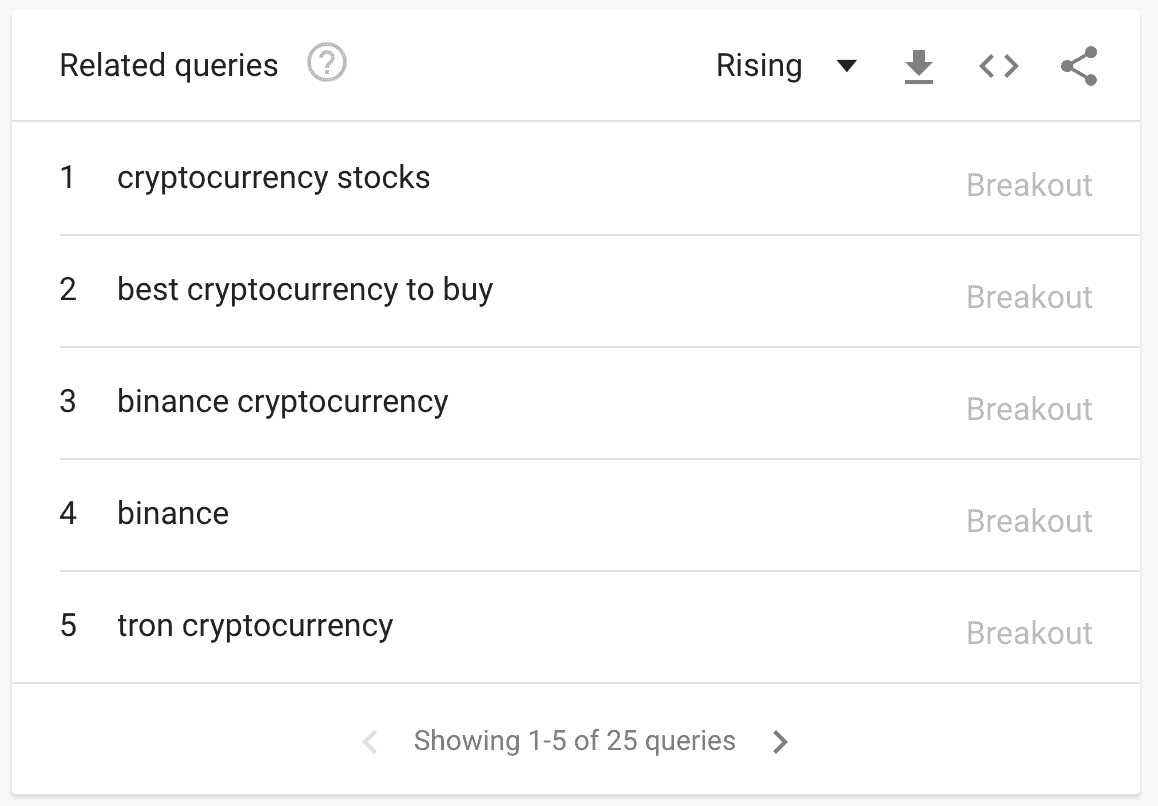 ---
7. Check Search Volume of Top Keywords
You can brainstorm a list of keywords in the potential niche and then paste them into Ahref's Keyword Explorer to check their search volume in bulk.
Then export the results into a CSV and paste the data into your Google Sheet. You should also have the top keywords from competitors already added to the Google Sheet.

Now sort the search volume from high to low and you should get a pretty good idea of whether there is a sufficient search volume for keywords in the niche and whether there is enough opportunity to grow an audience.

---
8. Estimate Profitability of Similar Sites in this Niche
One method to estimate the profitability of similar sites in a niche is to multiply earnings per visitor (based on similar real websites) and Ahref's estimated monthly organic traffic.
We can look at real-life examples of sites that have sold from different brokers, in this case, Motion Invest whom The Website Flip has collected data on. We can use this data to find out sites' earnings per visitor.

A technology products review site offered on Motion Invest recently had a monthly profit of almost $1300 on just over 22,000 monthly visitors. Thus, $1300/22,000 = $0.06 earnings per visitor.

So if you enter a tech review site into Ahrefs and it estimates 50,000 monthly organic traffic, you can estimate that it earns $3000 per month ($0.06 * 50,000).
An analysis of Motion Invest listings found the following profit per visitor data:
| Niche | Type | Profit per visitor |
| --- | --- | --- |
| Pets | Informational | $0.01 – $0.03 |
| Crafts | Informational | $0.03 |
| Tech | Product review | $0.03 – $0.11 |
| Art | Informational | $0.04 |
| Beauty | Informational | $0.04 |
| Shoes | Product review | $0.04 – $0.08 |
| Outdoor | Product review | $0.05-$0.11 |
| Automotive | Product review | $0.05 |
| Beauty products | Product review | $0.06 |
| Sporting goods | Product review | $0.05 – $0.08 |
| Home improvement | Product review | $0.07 – $0.10 |
| Gardening | Product review | $0.09 – $0.17 |
| Pets | Product review | $0.10 |
| Pool equipment | Product review | $0.10 |
| Farming | Product review | $0.12 |
| Kitchen | Product review | $0.10 – $0.14 |
---
9. Amazon Profitability of the Category
Most product review niche sites start out with the Amazon Affiliate program because it has a high conversion rate and you receive credit for additional items added to the customer's shopping cart. Most sites for sale on marketplaces are also monetized with Amazon Affiliates.
Amazon's commission rates vary by category. As of 2021, some categories like kitchen products and automotive products have a respectable 4.50% commission rate while other categories like physical video games, health, and personal care have a minuscule 1.0% commission.
Another factor is the typical price point for products you feature on your website. If you are selling $20 books at 4.50%, you will receive just $0.90 per sale.
On the other side of the price spectrum, a $1000 sofa at 3.00% would net $30 per sale. You will earn 10 times as much selling luxury beauty items compared to selling personal care items for the same price.
---
10. What is the Typical RPM for Display Ads In This Niche?
If you plan to monetize with a display ad network like Ezoic, Mediavine, or Adthrive, you will want to know what your site could earn per thousand pageviews.

If you have a site that can earn an average of $5 per 1,000 pageviews, then it would take 200,000 pageviews a month to earn $1,000 per month. However if you have a site that can earn an average of $20 per 1,000 pageviews, then you would only need 50,000 pageviews a month to earn $1,000 per month.

If other factors like keyword difficulty and search volume are similar, a higher RPM can make it easier to reach your revenue goal. However, it is harder to find low competition keyword opportunities in these niches because there are more websites (often with large budgets) that are pursuing this lucrative search traffic.
---
11. Is the Niche Seasonal or Evergreen?
Some niches have much higher revenue during a few months of the year.
Some examples of seasonal niches are Halloween costumes, holiday decor, and pool products. Products like tech gadgets and video games tend to have much higher sales during the holiday season while people tend to buy shoes evenly throughout the year. In 2017, Gamestop and Best Buy both had over 36% of their sales in the fourth quarter while the shoe retailer DSW made just 25.7% of their sales in the fourth quarter.

If you are interested in steady earnings throughout the year, an evergreen niche might be best. A poorly timed Google update could mess up your year if you are relying on a traffic boost
Seasonal traffic patterns can also make it harder to diagnose changes in traffic, because you will have to compare to the same period last year instead of the same period last month.
---
12. How Often Will Content Need to Be Updated?
Content that is published on niche sites typically needs updating and refreshing over time.

If you are writing product reviews, you will want to consider how often you will need to update the pages to make sure that the information remains current. An article about the "best smart home camera for X" will need to be updated when manufacturers release a new model or discontinue a past model.
Informational content tends to require less frequent updates or no updates at all if the topic doesn't change much over time. Some types of informational articles may remain relevant for years. Some examples are:
"what is the difference between X and Y"
"why is X so cheap/expensive"
"How to X on a budget"
"13 different types of X"
"5 alternatives to X"
---
13. Should You Pick a "Your Money Your Life" (YMYL) Niche?
Google places additional scrutiny on certain topics that can strongly impact people's lives. "Your Money Your Life" (YMYL) topics include categories like health and personal finance.
It tends to be more difficult to rank for certain keywords in these niches because Google wants to feature sites with experts or large established publishers.
---
14. Should You Pick a Niche You Are Passionate About?
There are pros and cons to choosing a niche that you are interested in or are passionate about. If you are passionate about a niche you might have more motivation to work on the website and put in more hours writing content, finding keyword opportunities, and building links.
On the other hand, niches that have a lot of passionate people such as hobby niches (e.g., photography, crossfit, paleo, travel) are much more competitive than boring niches.
To maximize profit, it is often better to look for boring niches with minimal competition.
---
14-Point Checklist for Choosing a Profitable Niche
To summarize, here is a checklist you can use next time you are deciding on niche for your affiliate site.
Competitiveness
How competitive is the niche?
What is the average Referring Domains of competitors?
What is the average Domain Rating of competitors?
What is the average organic traffic of competitors?
Profitability
What is the Amazon commission rate for this category?
What is the typical display ad RPM for this niche?
Are there other revenue opportunities like digital products?
Are there other affiliate programs outside of Amazon?
What is the typical price point for products in this category?
Popularity
Are keywords trending up, down, or flat in Google Trends?
Is there sufficient search volume to grow a large audience?
Costs
How often do you need to update the content?
Do writers need specific expertise to produce high quality content?
Other Considerations
Is the niche considered Your Money Your Life by Google?
Are you interested/passionate about this niche?
---
Wrap Up
There is no guarantee that investing lots of time and money into a niche website will result in a profit.
This unpredictability can make this type of business exciting or stressful, but there are few other business opportunities that can result in life changing outcomes for a relatively low startup cost.
Spending some time evaluating the opportunity and risks of a specific niche can give you an advantage in achieving your goals in building a successful niche site.