Investors Club is a broker and marketplace for profitable content websites earning at least $500 per month, mainly from affiliate and display ads. As of December 11, 2023, they have 25 content websites for sale.
Although it has fewer listings than other content website marketplaces like Empire Flippers, it features many high-quality websites, additional features like detailed due diligence reports, and a hands-off service that handles everything involved in purchasing a content website.
In this write-up, I discuss why Investors Club is a great marketplace to watch if you are interested in buying or selling a niche content website.
Let's get to it!
---
Live Analysis of Investors Club Marketplace
DealFeed.io tracks in real-time each website for sale that hits the Investors Club marketplace. Here we break down the data for sites that are currently available for sale and that have sold in the past. These are the live statistics as of December 11, 2023.
Live Websites For Sale
Number of listings live:

25

Total sale price:

$5,298,057

Average multiple:

31.4
Within the live website listings, 17 they are monetized with affiliate marketing (e.g., Amazon, ShareASale) and 24 with display advertisements (e.g., Mediavine, Raptive, Ezoic). Many listings are monetized with both strategies.
DealFeed.io Signals: Our algorithms have flagged 16 listings that have been sitting on the market for greater than 3-months, 14 listings that have had a recent sale valuation decrease, and 5 listings that have had a reduction in their listing multiple.

Here is a selection of the recent sites that are available for sale:
Earning $6,461/mo
Artificial Intelligence
Price $119,000
Multiple 18
Broker Investors Club
View Listing
Earning $629/mo
Pets
Price $19,499
Multiple 31
Broker Investors Club
View Listing
Earning $858/mo
Women's Hair
Price $20,000
Multiple 23
Broker Investors Club
View Listing
Sold Listings
These statistics have been calculated since the start of the marketplace.
Number of listings sold:

247

Total sale price:

$16,104,159

Average multiple:

31.96
Here is a selection of the recent sites that have sold on Investors Club:
Earning $605/mo
Outdoor
Price $43,000
Multiple 28
Broker Investors Club
View Listing
Earning $726/mo
Gardening
Price $17,301
Multiple 24
Broker Investors Club
View Listing
Earning $688/mo
Beverages
---
8 Benefits of Investors Club
1. Comprehensive 24-Point Due Diligence Process
Investors Club verifies stated revenue and identifies risks and red flags with their 24-point due diligence process. Their team spends at least 5 hours auditing each website listing. This includes:
Seller ID verification
Domain ownership verification
Traffic and earnings verification
Affiliate and display ad account verification
Seller interview (available to premium members only)
Analysis of SEO, content, and traffic
2. SEO Analysis Report

Investors Club has experienced SEO experts that analyze several SEO factors to determine the quality of the SEO for each listing.
The detailed SEO analysis report provides information on:
Whether the site was built on an expired or aged domain
Whether any redirects were used
Any manual penalties reported in Google Search Console
Whether the site was hit by a recent Google core update
Page speed scores (GT Metrix and Google PageSpeed Insights)
An overall SEO score from 0-5 based on their audit
Within the SEO report, the link analysis section of their SEO report will identify any potential risky links and link-building techniques that were used in the past. They review:
Any PBNs that were used
Any rented or purchased links
Quantity of spammy links
Quality of internal linking
Normal distribution of inbound links across pages on the website
Normal split of do-follow and no-follow links
Natural anchor text profile
3. Content Analysis Report

The detailed content analysis report includes a review of:
Average word count of pages
Number of pages
Total word count for the entire website
Does it list a real author that can be found online?
Does the author demonstrate a good understanding of the subject?
Quantity of filler words to inflate the word count
Is the content trustworthy and accurate?
Plagiarism check
Quantity of grammatical errors
Grammarly score of top pages
An overall Content score from 0-5 based on their audit
4. Traffic Analysis Report

The traffic analysis report examines the quality and trend of traffic including:
What is the trend of traffic?
Is traffic affected by seasonality?
Has traffic been affected by Google core updates?
Is traffic diversified across many pages?
Bounce rate and average session duration
Percentage of traffic from Google search
Percentage of traffic from the United States
An overall Traffic score from 0-5 based on their audit
5. Business Analysis Report

This useful analysis identifies opportunities for growth and the popularity of the niche. The report covers:
Competitors that share 10% or more of the same keywords
Number of potential keywords to target in this niche
Popularity and growth trend of the niche
Is the website under-monetized?
Estimated growth potential for the website
Estimated time required each week to run the website
Ideas for improving and growing the website

6. Deals Concierge
The Deals Concierge service will conduct outreach to potential sellers and present you with off-market website deals based on the criteria you provide. They will calculate a fair valuation for the website and assist with negotiation with the seller.
The price for this service is $3,200 for basic service and $7,000 for the "VIP" service (the price is discounted to $2,560 and $5,600 for premium members).
The basic service finds up to 3 website deals that meet your criteria and the VIP service finds up to 5 website deals. If you make an offer that is accepted, they will provide full transition service including website migration and legal documentation.
7. Lower Sale Commissions
Investors Club charges a lower sale commission or "success fee" than other popular website brokers with a maximum commission rate of 5%.

8. Website Operator Service
Investors Club offers a separate service called the BuzzLogic operator service. This provides a hands-off service for website investors looking for a more passive investment where an experienced operator manages the website and implements recommendations to help grow the website's traffic and revenue.
---
Investors Club vs Empire Flippers vs Flippa
| | | | |
| --- | --- | --- | --- |
| Category | Investors Club | Empire Flippers | Flippa |
| Commission Rate | 5% or less | 15% or less | 10% or less |
| Listing Fee | $0 | $0 | $49 |
| Total Listings | 40+ | 120+ | 5,000+ |
| Exclusivity Agreement | 45 days | 60 days | While the listing is live |
| Users | 4000 | 195,000 | 1.5 million |
| Escrow Fee | $0 | $0 | 0.89% – 3.25% |
| Proof of Funds Requirement for Buyers | Yes | Yes | No |
| Free Site Migration Service | Yes | Yes | No |
| Legal Documentation Provided | Yes | Yes | Yes |
| Due Diligence Provided | Yes | No (vetting only) | No |
---
What types of websites are offered?
They currently focus only on selling content websites that are monetized with affiliate marketing, display ads, or lead generation. They plan to add additional types of websites in the future.
To be listed on the marketplace the site must have at least $500 per month in revenue and at least 6 months of verifiable earnings and traffic.
---
How much does Investors Club cost?
Membership Fees
It is free to become a member to view listings on the marketplace. Proof of at least $10,000 in available funds is required to become a member.
Free members have limited access to the information provided about listings. Free members can't view many of the due diligence and website analysis reports (they can't view the business analysis and SEO analysis). Free members also can't view the text interview with the seller which discusses important issues like why they are selling their site and the tactics they used to grow the site.
The premium membership is available for a one-time fee of $747 (or $247 per year). Premium membership allows members to view new listings instantly (free members have to wait 5 days) and grants access to all due diligence and website analysis reports.
Sale Fees
Investors Club charges a maximum commission rate of 5% when you successfully sell a site on their marketplace. This is much lower than other brokers like Motion Invest which has a maximum commission rate of 20% and Empire Flippers which has a maximum commission rate of 15% for a similar level of service. It is even lower than Flippa which charges a maximum commission rate of 10% plus escrow fees while providing limited service.
No Escrow Fees
Investors Club provides a free escrow service when buying or selling from their marketplace. If you are buying or selling with Flippa, you will need to pay escrow fees of 0.89% to 3.25%.
---
What Listing Information is Provided?
Investors Club provides a standardized format for each listing including the following data points:
URL
Asking price
Average monthly revenue
Percentage breakdown of monetization methods
Monthly traffic (via Google Analytics API)
Site age
Sale multiple
Domain Authority
Domain Rating
CitationFlow
TrustFlow
Linking root domains
Indexed pages
Hosting company
Tech Stack (e.g. WordPress)

Additionally, a text interview with the seller is available to premium members only. The text interview reveals key information about the website including:
Background of the seller
Whether the site was built from scratch, purchased, or built on an aged domain
Why the seller is selling their website
How much time the seller spends on the website per week
How the seller would grow the website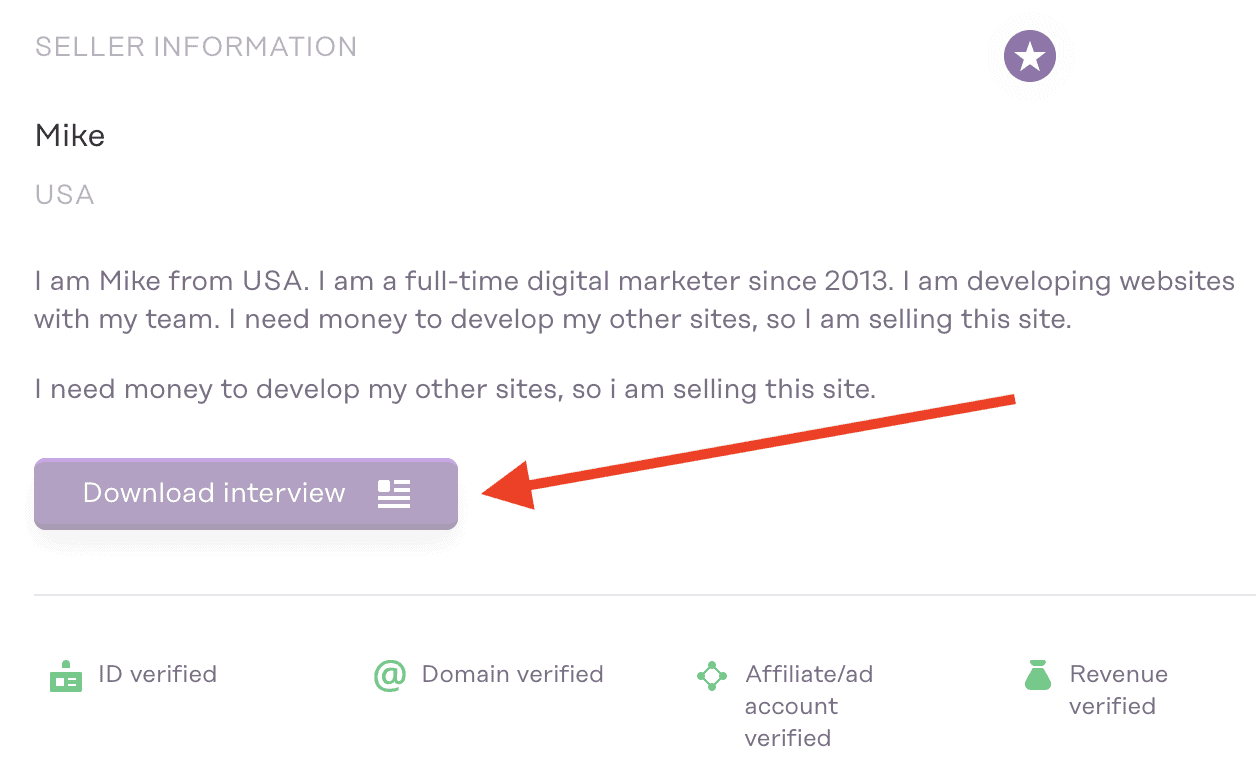 ---
What vetting or due diligence is provided?
Investors Club reviews each site for at least 5 hours and checks 24 items during the due diligence process. These items include:
Seller ID verification
Domain verification
Earnings verification
Seller interview
Content quality review
SEO and link quality review
Traffic quality review
---
What communication methods are available with sellers?
A potential buyer can send a message to the seller through the website. Questions and answers are posted publicly on the listing page. Private messages can also be sent through the website.
---
How is Migration Handled?
Investors Club offers a free site migration service that is included when buying a website. This includes:
Moving the site
Switching all affiliate links
Migrating all accounts
Transferring assets like the email list
---
How Long is the Inspection Period?
Investors Club has a 14-day inspection period after the website ownership has been transferred.

They ensure that revenue is at least 70% of the reported average revenue unless an exception has been made for seasonality or other factors. For comparison, Empire Flippers guarantees at least 50% revenue during the inspection period or the buyer can reverse the deal.

If revenue falls below the 70% benchmark during the inspection period, the deal can be canceled or renegotiated.
---
What Post-Sale Support is Offered?
The sales agreement specifies how long the seller will provide post-sale support. The standard is 30 days of seller support by phone, Skype, or email.
Takeaways: Some sellers are willing to provide additional support beyond the standard 30 days because they want their website to succeed after they sell it. This can be negotiated during the sale process.
---
What Services are Provided for Website Sellers?
No Fee Listing on Their Marketplace
There is no fee to list a site on their marketplace for sites that meet the requirements.
Free Website Valuation Estimation Tool
Their free valuation tool provides an estimate of how much your site could sell for on the Investors Club marketplace based on several factors such as revenue and traffic trend, age of the website, whether the site was built on an expired domain, and main type of monetization.
Valuation of Your Website
Investors Club uses a complex proprietary system to determine a fair asking price for your website when it is listed on the marketplace.
Free Legal Documentation
A standard Asset Purchase Agreement is provided which can be modified based on the sale negotiation. After the inspection period is complete the deal is considered closed and both parties receive a Bill of Sale.
---
Frequently Asked Questions
Is the premium membership worth it?
I chose to get the premium membership to access listings right away and access all the listing information, seller interview, and website analysis reports.
Takeaways: The due diligence reports provide a good in-depth analysis of each website listing but I recommend that you always do your own due diligence as well or hire an independent party to perform due diligence (learn more about our Due Diligence Service here). 
Do sellers sign a non-compete?
Investors Club has sellers sign a 1-year non-compete agreement unless otherwise requested by the seller and agreed to with the buyer.
---
Summary of Investors Club
Investors.Club differentiates from other brokers and marketplaces because they offer detailed due diligence and website analysis reports (for paid members) and their commission rate is much lower than other brokers.
Pros
Comprehensive due diligence and website audits for all listings
Detailed reports that reveal potential issues
High level of service including site transfer, legal documentation, and free escrow service
Quality of websites is typically high
Low commission fee of 5% for sellers
Short exclusivity period of 45 days
Cons
Smaller number of listings compared to other website marketplaces
Smaller user base means less visibility for listings
Buyers need a paid membership to view new listings right away
Buyers need a paid membership to view all reports
---
Wrap Up
Investors Club is a great marketplace to watch if you want to buy a high-quality and profitable content website that has passed extensive due diligence checks.
They are also a great option for selling your website because they charge the lowest sales commissions in the industry and only require a 45-day exclusivity period.
Make sure to check out the live statistics of the marketplace, and also DealFeed.io where you can discover sites for sale.