Flippa is a site that offers plenty of opportunities for buying an undervalued site that can be improved and flipped for a much higher valuation. However, there's no denying there are plenty of downsides to using Flippa, as well.
For individuals looking for sites like Flippa, but with more control, vetting, or support, the good news is that there are plenty of great alternatives out there.
If you've been on the wrong side of a bum deal before, or are looking for a little more assistance as a beginner and want a Flippa alternative, the following are my picks that I've used for finding great places to buy content sites.
Make sure to read my detailed Flippa review to understand how it works, its features, and more.
What Are the Common Issues with Flippa?
While there are plenty of opportunities for buying and selling sites on Flippa, there are some well-known problems, as well.
Here are the common issues:
"Flippa Scams" – Because of how open the platform is, listing websites is easy thus offering a huge number of options if you are looking to buy. While Flippa does vet listings above $50,000, the ones less than that are not vetted. This can lead to photoshopped earnings, lies about traffic numbers, and other misleading claims that step over the line straight into scam territory. Due diligence is a must! Read this write-up on the most common Flippa scams that I've come across
You're Responsible for Vetting – No Flippa moderators are confirming the information provided by sellers unless the listing is above the $50,000 valuation range. You are 100% responsible yourself for doing the legwork to confirm the numbers the seller provides.
Over Eager Bidders – Flippa is an auction system and it's not unheard of for a bidding war to get out of control, making the price far higher than the actual value or even potential value of a site.
Little Support for Transfer – Once a site is bought it's up to the buyer and seller to set up the process. There is no other support, so it's important (especially for beginners) to know how to safely set up the Escrow process or have an experienced guide to walk them through it.
---
5 Flippa Alternatives That I've Used To Acquire Sites
Looking to learn how to do website flips? Join the newsletter to get detailed guides, reports, and websites for sale. I share my insights from 14+ years and 218+ successful flips. No fluff guaranteed.
1. Empire Flippers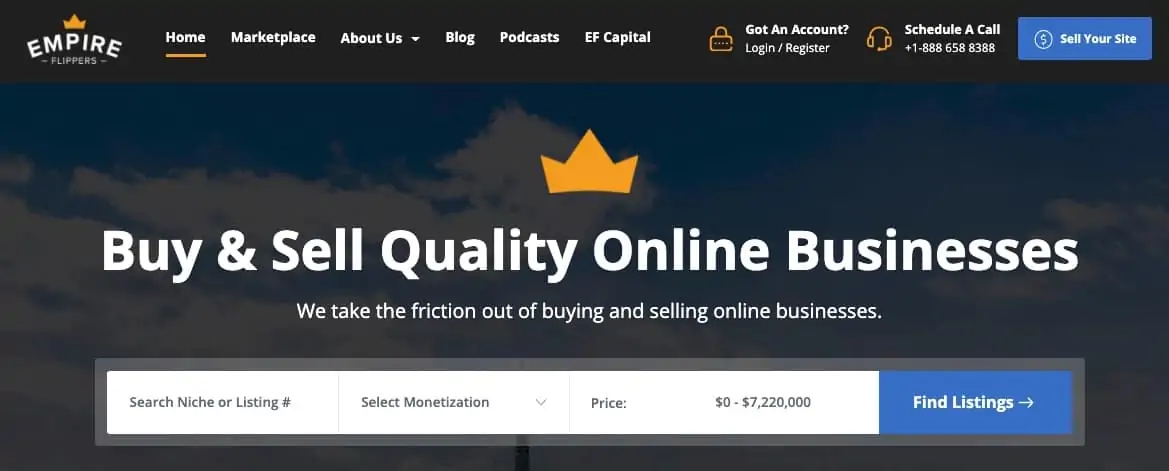 Empire Flippers is a website broker with a sterling reputation. In my experience, their biggest focus is on larger, more expensive websites and online businesses. Major focus on "premium" sites or online businesses that are in the six-figure range.
Pros
Preliminary vetting is done on numbers and earnings
Key information not made public until proof of funds is shown (so less future sniping)
An extremely good team helps with buying process through the transfer
High-value websites available
Cons
Mostly for big-budget buyers
Harder to find low-cost good deals
High demand drives up prices
How It Works
Private website broker that requires signing up with their website to receive the Monday morning update of new sites (assets) that are on sale. You will need to verify proof of income at a certain level to be accepted.
You can read my full review of Empire Flippers vs Flippa, where I compare and contrast 12 different categories between these two brokers. And if you want a more in-depth look, read the dedicated Empire Flippers review.
2. Motion Invest

Motion Invest is a great spot for finding sub $30,000 sites that have solid, verified earnings from the past 10 plus months. Motion Invest is a great brokerage when you're concerned about the traffic and earnings information being fully vetted and verified.
The number of sites available tends to be smaller but the vetting process lets you see 10 months of traffic and earnings, allowing you to see trends, as well.
Motion Invest is one of the best Flippa alternatives out there, especially for relative beginners to buying sites.
Pros
Dedicated to content websites
Stats and profit numbers verified
Access to lower-priced sites
Fair market-based valuations
Great commitment to customer support
Cons
Because the traffic, topic, and earnings information is public to potential buyers may cause copycat competition
Best for sites in the $5,000 to $30,000 range. While there are some higher and lower, this is the sweet spot for Motion Invest sales.
How It Works
Dutch auction-style. An initial price is put up and the site is available for that. Every two days the selling price falls $275 until the site is sold. Motion Invest does a great job of supporting both buyer and seller to make sure the buying, selling, and escrow process go smoothly.
You can read my full Motion Invest review here.
3. Investors Club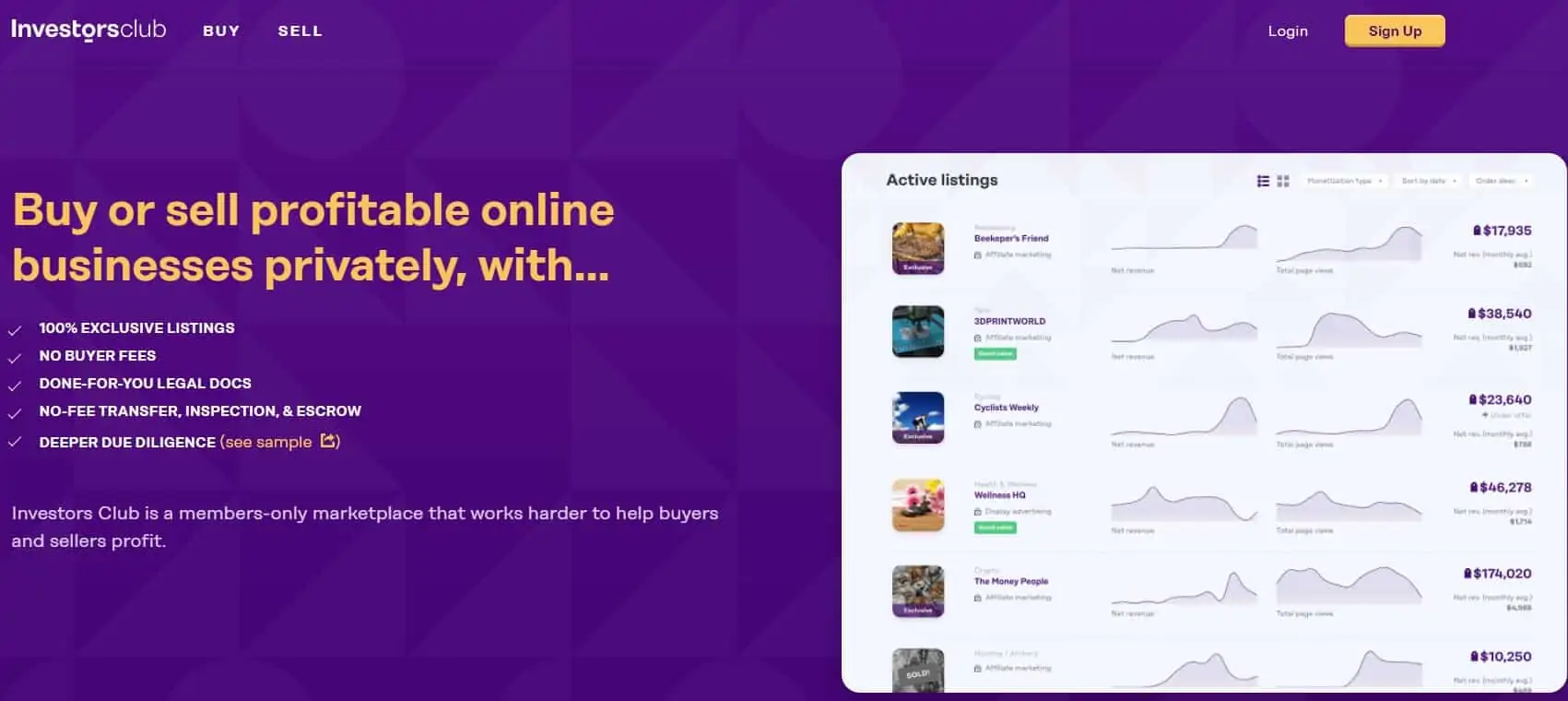 Investors mClub is a very unique website brokerage. Built by website investors, they are a private marketplace that provides excellent deal flow for buyers and sellers.
Pros
No fee escrow service provided
Very detailed due diligence reports
Fair market valuations
Ability to communicate and negotiate directly with website sellers
Detailed dashboard breaking down information or buyers is exceptional
Cons
Buyers need to pay a membership fee for access ($747/lifetime or $247/annually)
The direct negotiation with sellers can be a con if you are not good at negotiating
How It Works
This is a private members-only brokerage where heavy vetting is done on sites, and then buyers belonging to Investors Club can negotiate deals with the seller.
The best way to use Investors Club is as a full VIP member where you get the first crack at the new listings and the best deals.
Read my detailed Investors Club review.
4. The Website Flip Newsletter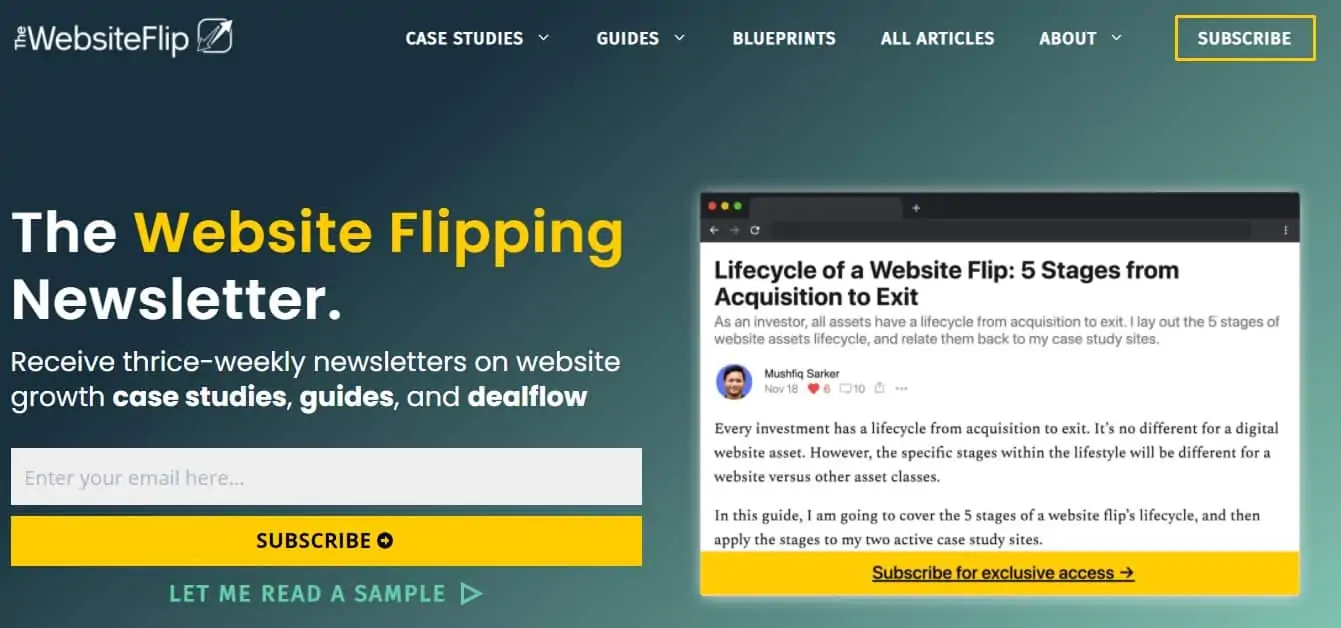 This is an email newsletter where subscribers are given access to new deals via the newsletter. Details are kept private this way to avoid copycats.
Pros
Mostly deals in sites valued at $50,000 or less
Solid vetting process
Well organized information on earnings, traffic, and easy potential wins
Cons
Deals only shared through the newsletter
Minimal deal flow, especially compared to the competition (though growing)
How It Works
Subscribe to the email newsletter, receive a list of deals, and investigate any that appear to pique your interest. If interested in a website, a form will be provided where you can express your interest. You will be given Google Analytics access, along with a P&L spreadsheet and earnings screenshot. You are welcome to negotiate and once finalized, the deal is transacted via Escrow.
5. MicroAcquire Marketplace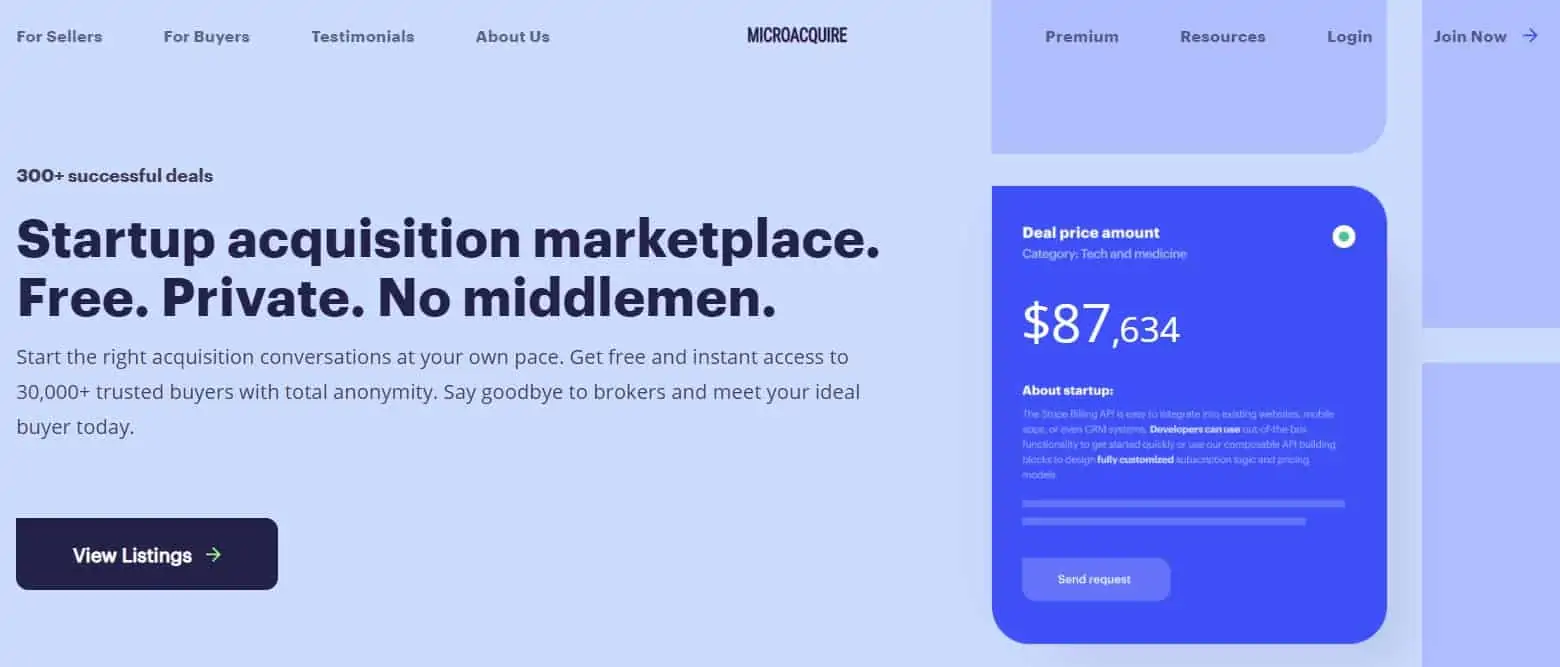 I was intrigued when I first heard about MicroAcquire Marketplace. They are rapidly growing into one of the big-name online business brokerages on my shortlist of places to check.
The best thing about MicroAcquire is that the seller does not pay commissions to the marketplace and therefore there are no markups in the sale price to cover the commissions. You are getting the business at its potential true valuation.
Read my more detailed review of Microacquire.
Pros
Offers key metrics for buyers
Solid vetting process
Ability to negotiate directly with sellers
Cons
Premium is the way to go which means a $290 annual membership
A lot of competition for good deals on startups
Focus on a lot of online businesses, not just content sites
How It Works
Sign up for an account. Get familiar with the layout and upgrade to premium to be first in line for updated listings as new content sites and online businesses are added. Direct communication is available with sellers through the members' section of the site.
---
FAQs about Flippa
What is the Flippa platform about?
Flippa is a place to buy and sell websites online. It is the most open marketplace, which often means the most potential sites and online businesses will be on sale there. This is an open marketplace in auction format where buyers and sellers can meet and make a deal.
Is Flippa a legit site?
Flippa is 100% a legit site. While it does have its issues, as discussed earlier, these are real websites for sale. I've done over 150+ transactions on Flippa. There are plenty of good legitimate deals to be found.
How much does it cost to sell on Flippa?
This depends on what exactly you're selling, the current fee list for listing on Flippa can be found here. Right now the listing price is $15 for a starter site or template and $49 for an established website.
While those are for listing, there are expenses related to the sale which are percentages based on the selling price.
How can I sell my business on Flippa?
Is Flippa First Access worth it?
In 2023, Flippa launched a new product, First Access. Buyers can now get first access to deals before the businesses are launched to the public on their marketplace. First Access subscribers can view the deals for 21 days.
This is worth it if you are in the market to buy an asset and want exclusive access.
---
Wrap Up
I went through sites similar to Flippa. As a website flipper, one should keep tabs on all brokers and marketplaces. You never know what deal may pop up.
I've done a large number of transactions on Flippa since its early days and I am a big fan of it. However, if you do not do proper due diligence, you can get scammed since it's an open marketplace.
Make sure to track these alternatives for deal flow and happy deal searching!